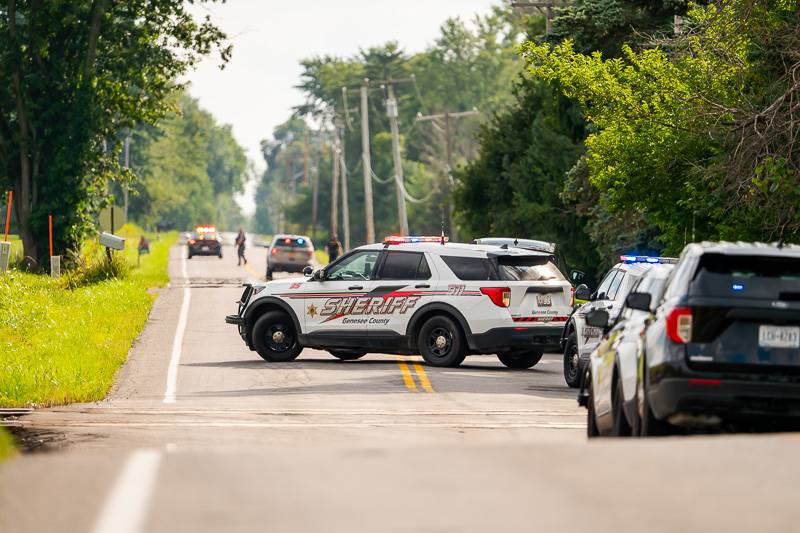 Monroe County emergency dispatch received a call on a non-emergency number Monday afternoon reporting a murder-suicide at 3865 Countyline Road in Darien.
Genesee County Sheriff's Office and State Police responded, along with Mercy EMS, and found a farm field at that address. They checked three neighboring residents near that address and didn't find any issues. Patrols have cleared the scene. 
 "We checked residences out of an abundance of caution given that we had plotted the address to an empty field," Chief Deputy Joseph Graff said.
Graff said the call may have indicated that a person had shot his girlfriend and then killed himself and that a third person may have been involved.
According to Graff, the Orleans County Sheriff's Office checked a similar address in Orleans County and also found no incident.
Officials are calling this a swatting incident. 
Graff said prank calls such as this are a danger to law enforcement, other first responders, and the community.
"I think the danger is just evident," Graff said. "We have law enforcement resources responding in an emergency fashion to essentially check out a false report. Not only does that endanger the law enforcement individuals who are responding, but also the community at large."
Since these sorts of incidents have helped elsewhere in the county, law enforcement has learned, Graff said, to hold some resources back so there are still patrols available in other parts of the jurisdiction. 
Since the call didn't come in on an emergency line, there was no immediate caller ID information available, Graff said, but authorities will be working to identify the caller. Criminal charges are possible. 
"The caller could be charged with filing a false report or falsely reporting an incident; those are the first two that come to mind," Graff said.
Either can be charged as a felony or a misdemeanor. The severity of the charge would depend on the actual statements made by the caller, Graff said. 
Asked what motivates these types of calls, Graff said, "I wish I knew the answer to that. I don't know."