June 25, 2012 - 4:31pm
Candidates make final push for GOP primary in Batavia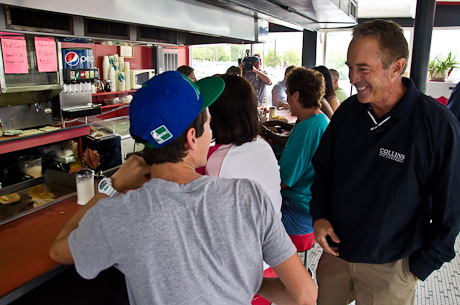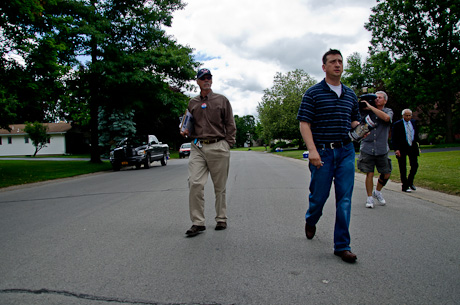 Batavia, the heartland of the redrawn 27th Congressional District, became a hotbed of political activity today as the two candidates in the GOP primary engaged in some last minute campaigning with Buffalo TV news crews in tow.
Chris Collins stopped for lunch and handshakes at the Pok-A-Dot and David Bellavia stopped at GOP households along Naramore Drive, Batavia.
Collins and Bellavia both predicted victory and took a couple final swings at each other.
Collins on why Genesee County Republicans should vote for him rather than Bellavia:
"You need look no further than this campaign. We're spot on with the issues. We have a professional campaign, 100-percent positive, 100-percent focused and he's taken a page out of the Barack Obama playbook -- divide and conqueror, vote against Chris Collins because he's from Erie County. He's insulted every resident in the county of Erie. He's divided us just like Barack Obama, the haves, have nots, the ones, the 99s, we're running on the issues. He's running a negative campaign. People don't like that."
Bellavia on Collins saying he's run a divisive campaign:
"It's very funny, because I'm not campaigning against Erie County. I'm campaigning against him and the handful of individuals who make up the Erie County GOP machine who embarrassed the Erie County Republic Party, who have almost ruined the party in Erie County and have done nothing but embarrass us and fail us. He should have beat Mark Poloncarz handily. He didn't. He talks about the 64 percent of Erie County in the district that voted for him, but there's never been a menu option and now there's another entree on the menu and he's going to find out that a lot of people held their nose last time. It's not about Erie County at all. It's about Chris Collins."
At the Pok-A-Dot, after I turned off my tape recorder, Chris Collins and I discussed the likely voter turnout tomorrow. I said it would be low. Collins said that he had a deal with Genesee County GOP Chairman Richard Seibert that he wouldn't do robo calls in Genesee County if Seibert promised to get out the vote.
Collins said he had the same deal with Livingston County.
Collins repeated the statement, no robo calls if Seibert got out the vote.
This sounded like a deal between Collins and Seibert, who is officially neutral in the race (and the county GOP did not endorse a candidate).
Reached at his office, Seibert said there was no such deal.
Seibert said he had a conversation with Collins about robo calls during the Jane Corwin campaign, that people were getting as many as 16 calls a day and it didn't go over well with Genesee County voters.
"I told him that robo calls were killing us," Seibert said. "That's not what our people want or like."
Collins said he wouldn't do robo calls in Genesee County, but Seibert said there was no promise to get out votes for Collins.
The county GOP is not doing any specific get-out-the-vote effort, Seibert said. Individuals are free to support and work on behalf of either candidate and are doing so, Seibert said, but he hasn't asked any Republicans to work for either campaign.
Reached later, Collin's campaign spokesman Michael Kracker said Collins did not mean to leave the impression that Seibert promised to deliver votes for his campaign.
"Dick Seibert has been very good at remaining neutral in this race," Kracker said.
As for the predicted turn out, Seibert said he doesn't think it's going to be has big as he had hoped.
With David Bellavia being from Genesee County, he thought the Bellavia campaign would work hard to get out the vote in Genesee County, and that to counter that move, the Collins campaign would match the effort. Neither candidate, Seibert said, has put any extra emphasis on Genesee County and he's not hearing many people around the county talking about the election.
Seibert ordered enough ballots to handle a 40-percent turnout among Republican voters.
"I've got a bad feeling I ordered too many ballots," Seibert said.
June 25, 2012 - 6:04pm
#1
I will support David Bellavia!!
The only other important question is: "What did Collins have for lunch at the DOT?"
I would recomend the beef on weck with onion rings, and you put the onion rings right on the sandwich with gobs of hourse radish! and of course root beer!