August 8, 2013 - 3:12pm
Chris Collins hosts small business roundtable in Batavia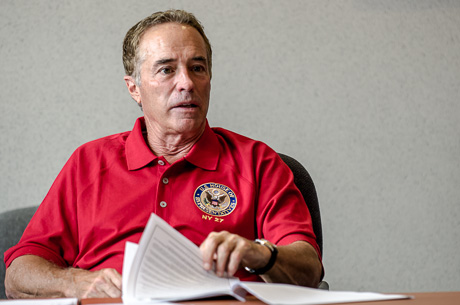 Rep. Chris Collins met with a few Batavia business owners today to discuss issues small business. Collins said meetings such as this help keep him grounded and focused on issues that will help grow the economy.
The clear message from today's meeting, he said, was that small business owners are uncertain about the direction of the country, worried about tax codes, health care, availability of capital and finding a well-trained work force.
He noted economic growth has been floundering at 1.6 percent for years.
"There was a confirmation here today that uncertainty plays a big role and that uncertainty is tied directly to Washington," Collins said.
He said the message for small business owners who couldn't attend the meeting is that he's trying to do his part to get the country moving forward in a commonsense way.
That means tax reform that lowers the marginal tax rate for all small business owners to maximum of 25 percent," he said. "(It means) making sure the government doesn't shut down but that we deal with the deficits and debts of our country; bringing a level of certainty to unleash the investment that's waiting to be made if people were confident the government wasn't going to shut down, and I will continue to fight for the repeal of ObamaCare."
August 9, 2013 - 8:57am
#1
Howard, was this an invitation only meeting?
Was it posted or listed or did I just miss it ?