October 9, 2012 - 3:46pm
Church burglar faces possible long prison term after accepting plea deal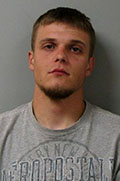 Church burglar John A. Cabrera is facing a maximum possible sentence of 21 years in prison after admitting to three felonies in Genesee County Court this afternoon.
John Anthony Cabrera Jr., 22, entered guilty pleas to Class D felony counts of burglary and escape. Each of the three convictions carry a possible sentence of two-and-a-third to seven years, and each sentence could be served consecutively.
Sentencing for Cabrera was set for 9:15 a.m., Dec. 4.
The plea is in satisfaction of multiple charges against Cabrera, who was captured July 24 after breaking into St. Paul's Lutheran Church, 31 Washington Ave., Batavia.
There may be additional charges against Cabrera, but this plea covers those charges as well. In order for any victims to recover restitution, Cabrera must be charged of those suspected crimes before he is sentenced on this plea.
So far, there are claims of restitution from St. Paul's and Genesee County totally nearly a $1,000 and District Attorney Lawrence Friedman said there willl be additional claims filed prior to Dec. 4.
In order for the plea deal to stand, Cabrera cannot dispute any restitution claims.
There was a spate of church burglaries in early summer prior to Cabrera's arrest, including at St. Mary's, Ascension West, First Baptist and St. James.
After he was arrested, Cabrera managed to escape from the Genesee County Jail, though he was captured before he could actually get out of the building.
For previous coverage, click here.
November 8, 2012 - 1:30pm
#1