November 28, 2012 - 8:40pm
City announces open house to introduce Batavia Opportunity Areas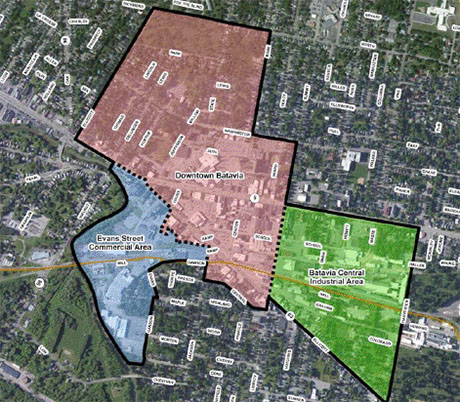 Press release:
The first public open house to introduce the Batavia Opportunity Areas (BOA) will be held at the city's Council Board Room at City Hall, One Batavia City Centre, at 7 p.m. on Wednesday, Dec. 5. An interactive forum will be facilitated by ELAN, an award-winning firm specializing in community revitalization. 
Those in attendance will be provided with information on the program, given an opportunity to meet the project team, and review information about the program. Members of the community will also have an opportunity to ask questions and provide input.
The meeting will be conducted in conjunction with the City of Batavia Opportunity Area Steering Committee, which includes members from the City of Batavia, Batavia Development Corporation, Batavia Business Improvement District, Chamber of Commerce and Genesee County Planning Department.
The purpose of the Batavia Opportunity Area program is to advance the redevelopment of under-utilized, vacant, abandoned, or contaminated commercial and industrial sites within the city. The focus areas include Downtown Batavia, the industrial corridor between Harvester Avenue and Liberty Street, and the Evans Street corridor.
This effort builds upon existing plans, including the city's recently completed Community Improvement Plan, to advance redevelopment of strategic sites and areas within the city. The outcome of the BOA program will help the city as well as businesses and property owners in the area with obtaining grants and financial incentives for redevelopment.
For more information on the Batavia Opportunity Area program, visit the city's Web site at www.batavianewyork.com.