July 23, 2012 - 6:42pm
For communities grappling with bath salts, ease of purchase seems to be key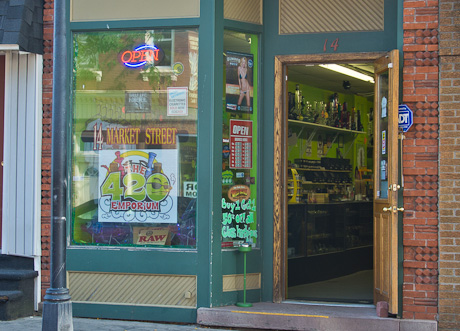 There are some communities in Western and Central New York where law enforcement and emergency personnel have reported problems with users on "bath salts," but some communities have been untouched.
In the GLOW region, for example, Le Roy, Albion, Medina and Warsaw, according to law enforcement sources in each place, haven't seen many emergency calls related to bath salts.
In communities such as Batavia, Fulton, Utica, Watertown and Syracuse, however, there has been an explosion of calls for bizarre behavior, people having seizures, people demonstrating extreme paranoia and agitation.
What's the difference between these two sets of communities: In the villages and cities where there are problems, there is at least one retail shop -- usually a head shop -- suspected of selling synthetic drugs. Where no such shop exists, there haven't been many people buying and using the products.
In Batavia, first there was The Laughing Buddha, which was suspected of selling bath salts and other synthetic drugs until it closed around the beginning of May.
At about the time it closed, The 420 Emporium opened at 400 Ellicott St.
There are four other 420 Emporium locations in New York. The first one opened in Fulton in September 2011. A short time later, a second head shop opened in Fulton.
"Ever since that store came to town, well, let me put it this way, we never had a bath salt problem until these stores came to town," said Sgt. Joseph Agigo of the Fulton PD. "It seems to have contributed to the problem. It may not be the only source of the problem, but it has contributed to it."
While bath salts and other synthetic drugs are available online, an online purchase requries a credit card and creates a paper trail. For a person on parole or probation, that could be a problem.
When a retail store allegedly sells synthetic drugs, anybody with cash and knowledge of the location can acquire a product that may or may not have been banned by state or federal law.
Sgt. Steven Hauck, public information officer for the Utica PD, doesn't want to overstate the level of bath salt problems in his city, saying that because his department's policy is to be completely transparent about the issues it deals with, Utica got more media attention than some other municipalities.
However, Hauck said there is certainly a correlation between ease of access to a retail location that seems to be selling synthetic drugs and the problems it creates in a community.
"Part of the thing with any type of drug is a person's ability to obtain that drug," Hauck said.
What Hauck said he doesn't understand is why a business that might otherwise be legitimate would want to get involved in something as ethically questionable as selling synthetic drugs.
"The thing I've always found really odd about the whole bath salt thing is that while I can understand to a certain degree, though I certainly do not condone it, a person on a street corner selling crack or selling marijuana, these are businesses, legitimate business," Hauck said. "Why would you want to get involved in something that you hear every day is killing people?"
The 420 Emporium's Web site lists locations in Rochester, Henrietta, Brockport (top photo), Syracuse, Fulton and Batavia.
The bath salt issues in Batavia are well documented. Fulton's police have dealt with bath salt issues. Media reports confirm numerous bath salt issues in Syracuse, though there are other possible retail outlets allegedly selling the compounds in that city. 
As far as Brockport, its chief of police has not responded to multiple phone calls and emails requesting comment. The Batavian did speak to a lone police officer Saturday who said he wasn't aware of any problems related to 420 in Brockport; however, Jason Lang has told The Batavian previously that he has purchased bath salts in Brockport.
July 24, 2012 - 8:38am
#1
lol-- just what we need here in Medina -- as if there aren't enough crazy people here now --ok i may be one too --:)