June 13, 2011 - 7:31pm
Corona allegedly tried to steal from Target with law enforcement in store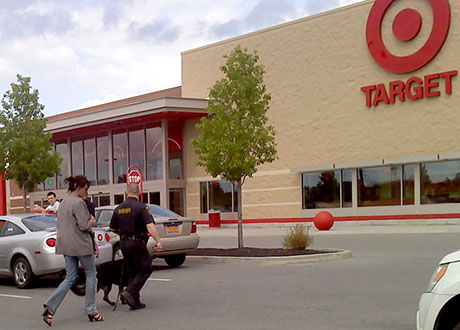 Shortly after 4:30 p.m., Suzanne Corona, who has been involved in previous criminal cases that made news, walked into the Target store on Veterans Memorial Drive.
Dressed in a gray jacket and blue jeans, she carried a bag over to customer service and pulled out two clothing items for exchange. After showing a receipt for the purchase, she received a handful of cash and put it in her purse.
Corona then walked past a local reporter, a Sheriff's Deputy and his K-9 and the store's asset protection manager, seemingly avoiding eye contact as she proceeded to the jewelry counter.
The asset protection manager, alerted her security staff. She said, "We have her on camera."
The reporter left the store, thinking, "what could possibly happen with a deputy, a K-9, and an asset protection manager right here?"
About five minutes later, Corona reportedly left the store and began to run into the parking lot, calling out, according to witness Brandon Maldonado, "Bruce, Bruce, I'm over here."
Two other people reported seeing Corona duck in between cars and Deputy Brian Thompson with K-9 "Pharoah" exited the store in pursuit of Corona. Thompson later said he glanced over at Maldonado, whose direction of gaze told him where Corona appeared to be hiding.
Thompson said that when he apprehended Corona, he found the allegedly stolen merchandise, perfume, on her.
Corona was returned to the store where she was arrested on a petit larceny charge.
A short time later, Thompson was called back outside to check on a car with Florida license plates. Inside the car, additional merchandise was found that might have come from other local stores and Thompson said there will be an investigation into whether those items were also stolen.
The car reportedly belongs to Corona's brother.
The man who was with the car was released. It's not believed that he was involved in, or had any knowledge of, any alleged thefts.
Corona was then transported to Genesee County Jail for processing.
In June 2009, Corona was arrested in Farrall Park and accused of public lewdness and adultery. The adultery charge made the case somewhat of an international sensation for a short time. Later, Corona was accused of trashing the buffet at South Beach and of shoplifting from a local floral shop.
The adultery charge was dropped as part of a plea arrangement and in November 2010 she was placed on one-year probation. In March, in relation to the shoplifting case, she was referred to the Mental Health Court. 
For previous coverage of Corona, click here.
UPDATE 10:07 p.m.: The Sheriff's Office has issued its press release on Suzanne Marie Corona's arrest. Corona allegedly tried to exit the store and when she did, the anti-theft alarm sounded. She then allegedly attempted to flee. She allegedly attempted to steal two pair of sunglasses, a hair band and a necklace, not perfume as we originally reported.
Photo of Corona outside target this afternoon submitted by a reader. Copyright 2011 by the reader. All rights reserved.
June 13, 2011 - 10:09pm
#2
I believe she was intending to sell the stolen merchandise, with the proceeds going to pay for the stolen plants, which stemmed from internal guilt over the mess she made at South Beach, which only occurred because she was upset over her conviction regarding her tryst in the park in view of children, which only happened because her parents didn't give her enough attention. Or drugs.