September 12, 2014 - 2:33pm
County planners reject proposed apartment complex on West Main Street Road, Batavia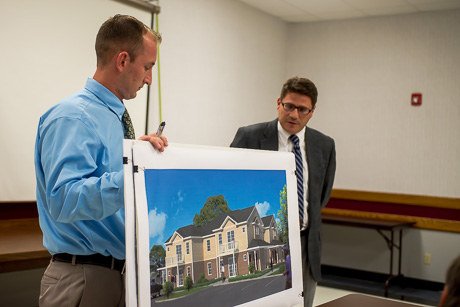 A proposal to build as many as 136 apartment units on West Main Street Road was rejected Thursday by the Genesee County Planning Board on a 5-3 vote.
Planners expressed concern about increased traffic on West Main, school bus access, the use of tax credits for construction, and the potential to draw residents from existing landlords in the City of Batavia.
Andrew Crossed, in the dark suit, a VP with Conifer Realty in Rochester, said the proposed apartments would be marketed to people earning from $24,000 to $45,000 a year and no Section 8 housing would be included.
The state grants sought for the project would be part of a workforce development program, and while the grants might help make rents lower, the project is not dependent on the grants, he said.
Crossed and Civil Engineer Jess Sudol (in blue shirt) both said their own market studies and independent market studies show there is a tremendous unmet demand in Batavia for middle-income apartments.
Crossed said Conifer has built this same project in Canandaigua, other parts of New York, and in other states.
"It's our flagship product," he said.
The development includes such amenities as a weight room, laundry, recreation area and is about 50-percent green space.
The proposed location, on nearly 22 acres, is approximately across the street from Genesee Feeds Pudgies, creating a bit of a horseshoe around Scooter's Restaurant and not far from Kiwanis Park (which is on the opposite side of the street).
The area is zoned commercial, not residential, which was also one of the issues of concern for board members.
The rejection doesn't necessarily kill the project. The Town of Batavia's planning board could still approve it with a majority-plus-one vote, but Crossed said there would be a company meeting before Conifer decides whether to proceed with development.
"I can't say at this time," he said.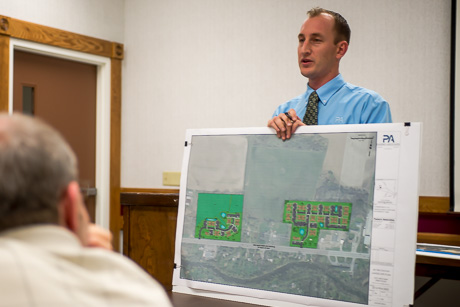 September 14, 2014 - 7:56am
#2
I would love to move out of the City of Batavia.
Government planners should stop imposing their "opinion" on the lives of others. If there is a market for the apartments, the apartments should be built
I work in Erie County, I wonder If the Genesee County planners would approve the plan if they thought that people like me are considering a move out of this county to find a better place to live. I love this County, I've lived here all my life. My trip to work starts with a ten minute drive just to exit the City of Batavia then only fifteen more to get to Akron.