May 2, 2015 - 12:13am
Culinary students at BOCES win fourth consecutive title in Buffalo-based competition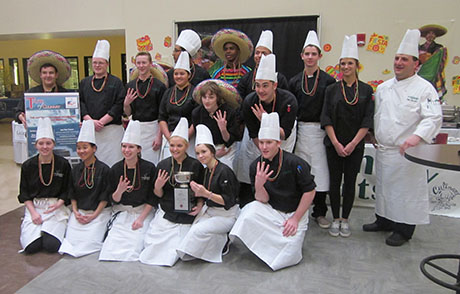 Press release:
Culinary Arts students from the Batavia Career and Technical Education Center brought home the Culinary Cup for the fourth consecutive year! These students took first place in the ninth Annual Taste of Culinary Competition hosted by the American Culinary Federation of Greater Buffalo. This event was held at Niagara Falls Culinary Institute, Niagara Falls.
Chef Nathan Koscielski's culinary team of 17 students consisted of morning and afternoon juniors and seniors. The team competed against student teams from other colleges, high schools and BOCES. During the event, this team prepared and presented their menu to more than 300 attendees in a three-hour time period. Each student needed to be familiar with each dish and be able to answer questions. Mystery judges adjudicated the teams and their menus.
Jonathon Quinn is a first-year Culinary Arts student from Batavia City Schools.
"Chef K. is passionate about our work and he builds our confidence. We were well prepared for this competition because of what he taught us. This was a real-world work experience," Jonathon said.
Adrian Lambert, a second-year Culinary Arts student from Byron-Bergen, was thrilled to be part of this team for the second year.
"This was a huge accomplishment to win first place for the fourth year in a row. We worked together as a team to learn the skills necessary to be ready for this contest," Adrian said.
Chef Koscielski is proud of his team not just because this group of students won, but because of the professionalism and enthusiasm these students showed while in the kitchen and at the serving tables at this competition.
"This team is made up of students who have a good attitude, excellent attendance and a work ethic that shows a passion for the culinary arts. This year we won the People's Choice Award. We were chosen by over 300 people who attended this event as the best overall culinary team," he said.
The team began their presentation with a roasted poblano gazpacho garnished with farm fresh, hard-boiled duck eggs. The main entrée was guinea hog carnitas served with fresh-made flour tortillas topped with an avocado-lime crème and mango cheese. The meal was served with freshly made iced hibiscus tea.
This menu was prepared with products that were raised by the Animal Science Program at the Batavia CTE. These students raised the guinea hog used in the main dish along with the duck eggs that were used to garnish the gazpacho.
"Culinary Arts students learn to prepare a wide variety of foods throughout the school year, including production animals raised by the Animal Science program. The collaboration between Culinary Arts and Animal Science results in a unique experience for these students as they begin to understand the farm-to-table concept and, thereby, gain respect for mankind's food sources. The end result of this process is better food production, more knowledgeable chefs and food processors, and ultimately, a more healthy choice for the consumer," said Holly Partridge, Batavia CTE Animal Science instructor.
Jon Sanfratello, principal of the Batavia CTE, noted how this cross-curriculum has provided students with the opportunity to cut through traditional subject matter lines and explore relationships of subjects to one another.
"The collaboration between the Culinary Arts and Animal Science programs has brought the farm-to-table concept into the classroom and kitchen. This partnership has played a major role in the success of our students in making them career and college ready. We are so proud of our students and instructors on their winning streak of four first-place finishes!" Sanfratello said.
Photo: The Batavia CTE Culinary Cup Champions.
First row, from left: Adrian Lambert, Byron-Bergen; Olivia Majors, Batavia; Elisabeth Skillman, Le Roy; Hannah Baumgart, Le Roy; Noah Garcia, Batavia; Maylee Zipfel, Pavilion.
Second row, from left: Alyssa Wilson, Caledonia-Mumford; Emily McVicker, Le Roy.
Third row, from left: Nicholas Shepard, Le Roy; Cameron Kleist, Le Roy; Steven Horn, Caledonia-Mumford; Nicholas Amico, Batavia; Chef Koscielski.
Back row, from left: Jonathon Quinn, Batavia; Jamall O'Neil, Batavia; Conner Gricius, Le Roy; Clinton Nickens, Le Roy; Brandon Jones, Caledonia-Mumford.
Previously: