July 24, 2013 - 11:46am
Custom Suzuki motor bike valued at $16K stolen from garage on Pratt Road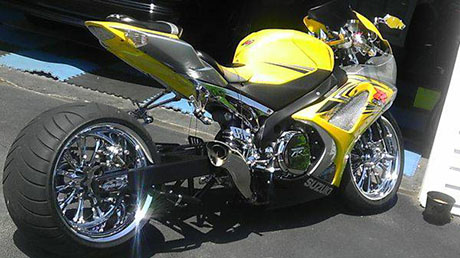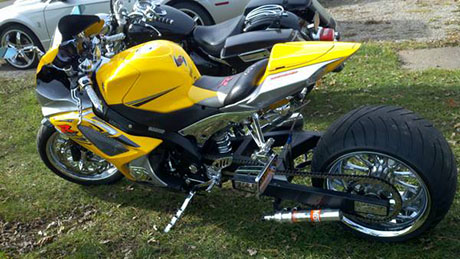 Sometime between 1 a.m. and 6 a.m., thieves made off with this custom Suzuki motorcycle valued at $16,000 from a garage at a residence on Pratt Road.
The perpetrators forced entry and pushed the bike to the road.
Two weeks ago, the bike was listed on Buffalo Craigslist.
Anybody with information about the theft or whereabouts of the bike can call Investigator Roger Stone at the Sheriff's Office, (585) 345-3000, ext. 3570.
July 24, 2013 - 11:32pm
#1
Personal Opinion:
Looks like the bike next to it, is more valuable and a better ride. I know I would not buy nor pay 16K for a piece of Suzuki Garbage. Curious about this Buffalo Craigslist, did the owner or the thieves add it to the site. If the owner did, did he/she included the address of his/her residency so, they knew where to look for it or did they just use a phone number and let the thieves' fingers do the walking? If the thieves inputted it on Graigslist can they discover the identity of the suspects? Sorry for being insensitive but, I can't believe that someone would pay 16K for that. How would someone from outside our area know where to search for it if there was not any personal information on the website? Wasn't that motorcyclist who led Police on high speed chase coming from Buffalo? Did they even catch that person?
Really a NOS connection on this crap, Why? Maybe so, when they wreck at that speed there is no suffering and it is instant death? Absolutely no sense for putting that on a street bike. Save it for the race track where there is less of a chance killing or hurting someone other than yourself.
Sorry I have no information on the identity of the suspects or location of the Suzuki Garbage. Hopefully the thieves are identified and arrested and the owner gets their property back.