September 3, 2013 - 1:18pm
Darien man accused of making sexual advance to teenage boy in Le Roy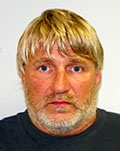 A 53-year-old Darien resident is accused of making a sexual advance two weeks ago toward a 14-year-old boy while at the Le Roy Community Pool.
Robert F. Williams, of 10933 Townline Road, Lot 18, Darien, is charged with one count of endangering the welfare of a child.
Williams is accused of offering the boy oral sex while at the pool on Aug. 21.
Following arraignment, Williams was released under supervision of Genesee Justice.
September 3, 2013 - 8:13pm
#1
This very sick man would come to our summer and winter recreation and swim in a speedo. Very disgusting!!! I hope he gets the maximum!!!
September 4, 2013 - 9:09am
#2
Bet he doesn't see the inside of a jail.
He'll get probation and maybe a conditional discharge or contemplation of dismissal if this is his first arrest.
September 4, 2013 - 11:54am
#3
Jenn, guilty until proven innocent? My apology if you were present and witnessed the conversation between the ACCUSED and the aledged victim.
Not trying to be a jerk, but in my opinion,that is the fly in the ointment of our system of justice, people randomly spouting off before a defendant has his/her day in court. Makes one wonder what perspective jurors are thinking.
Don't get me wrong, if it is proven, he deserves everything the system can legally throw at him.