December 20, 2013 - 12:14pm
Deshawn Butler released from jail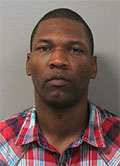 Dashawn Butler
The Batavia resident suspected of being involved in a shots-fired incident Sept. 27 on State Street has been released from jail, free on his own recognizance.
Dashawn Butler was released following an appearance in City Court because the District Attorney's Office was unable to complete a preliminary hearing within the required six days of Butler's arrest.
District Attorney Lawrence Friedman said the people were not ready to proceed with a hearing because a key witness would not be available in time.
Butler still faces charges of reckless endangerment, 1st, a Class D felony, and criminal possession of a weapon, a Class C felony, and second-degree menacing, a misdemeanor.
State law required Butler's release because he wasn't going to receive a hearing within six days. 
Friedman said his office will continue to press those charges against Butler.
December 20, 2013 - 12:38pm
#1
so the citizens of Batavia are exposed to this criminal while a well paid DA isn't doing his job . The witness should have had an affidavit prior to his arrest . Its another black eye for our local legal system. Not to mention it took three months to locate a fugitive that was less than 300 yards from the court house and police station