Image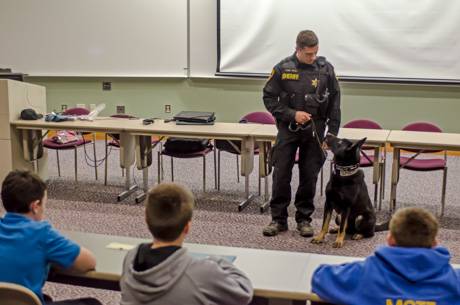 Destro will do just about anything to get permission for a minute or two of play time while on the job -- sit and stay, chase a bad guy, search for a human scent, bark at a cornered criminal, find some dope.
If he were in the wild, it would be like any dog catching a rabbit and having a bit of fun with it before it became a snack. That's what dogs do, Deputy Chris Erion explained to a group of seventh- and eighth-grade students during a seminar on law enforcement at the 26th annual Genesee County Youth Conference at GCC.
Erion put Destro through his paces demonstrating common dog tricks such as sit, down and stay, and then had Destro chase after him a few feet and then bark at him as if he were a fleeing criminal suspect. Destro then found a marijuana sample hidden in the room.
After each task, Destro got to play with a tug with a small rubber ball attached, or he got to chew on his favorite toy -- an old piece of fire hose.
Erion recounted one of Destro's greatest law enforcement feats yet, finding a post-it note that had been used in an alleged armed robbery. The job well done really demonstrates Destro's ability to pick up human scents, Erion told the students.
After the demonstration, Erion shared information about a new Facebook page set up by the children of Deputy Brian Thompson to help raise funds to support the K-9 program.
"The care and maintenance for a police K-9 is above what it typically is for a household pet," Erion said. "Their teeth have to be regularly maintained. Often they break teeth -- he's broken a couple of teeth already that had to be fixed -- care, feeding, all those sorts of things go into the K-9 fund to support the dog."
There isn't a specific budget amount the K-9 fund is trying to raise. The goal is to maintain an ongoing source of revenue to help take care of Destro and Pharoah, who retires in October, when Thompson retires, though Erion believes it would be a good idea to maintain a fund balance of $5,000 to $10,000.
"Then, if something were to happen, we could handle that immediately," Erion said. "We could put a new dog and handler into the field immediately."
The Facebook page was set up by Thompson's daughters Olivia and Sophia. They also came up with the idea of an envelope fundraiser. People can send a message through Facebook requesting an available envelope -- once a numbered envelope is taken and returned, it's counted as "filled," so you'll need to pick a different number -- and they will receive the requested envelope to fill with a donation and return.
The goal is to raise $10,000. According to the page, $2,000 has already been raised.
"If you think about it, the only life (Thompson's) children have known is life with a police K-9," Erion said. "He's worked K-9 his entire career with the Sheriff's Office and before that. It's part of their life, just having a police K-9 in the house, and they came up with an idea for a fundraiser. I just think it speaks volumes about their character and Brian's character to have that thought to do that."
Since becoming a K-9 officer, Erion said he's really learned a lot about the generosity of the Genesee County community.
"This assignment has opened my eyes to a lot of good things in our community," Erion said. "There's a school right now (where) the whole school is working on a K-9 fundraiser and I've had other people approach me to find out how to go about raising funds."
Visit the Facebook page Genesee County NY K-9 Support and click "Like"
Image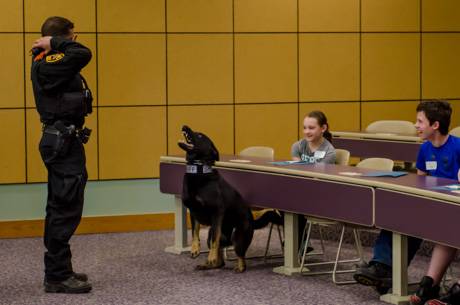 Image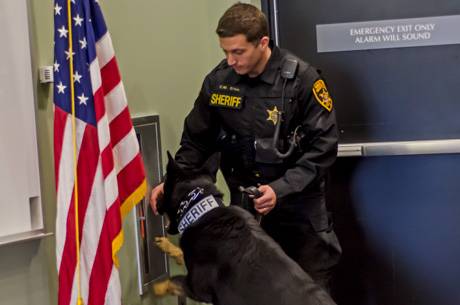 Image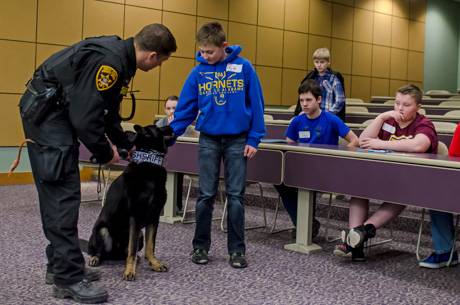 Above, Kyle Mott gets a chance to pet Destro.