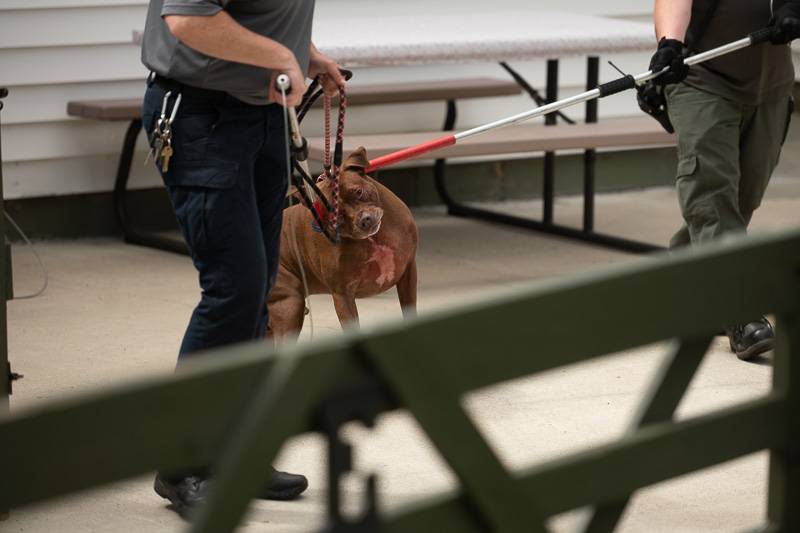 The owners of a dog that bit two people on June 22 at a residence on South Main Street in Batavia was surrendered by the owners to the Genesee County Animal Shelter, and it has been euthanized.
The attack on a home health care aide and one of its owners was unprovoked, said City Police Chief Shawn Heubusch of the Batavia Police Department.
A mail carrier walking her route that afternoon heard screams from inside the house and intervened. 
"The incident could have been much worse if not for the actions of an uninvolved postal worker that came running to help," said Heubusch in response to an inquiry about the case from The Batavian on Wednesday. "The postal worker heard screaming coming from the residence and ran over to see what was happening and witnessed the dog attacking. The postal worker was able to spray a chemical deterrent on the dog, forcing it to release its bite."
Heubusch said that both victims were treated for their injuries and released. He said both injuries were severe, but he didn't have exact details.
"The healthcare worker had been to the residence once before and, during the previous visit, had not encountered the dog," Heubusch said. "It is the policy of the healthcare worker's company that any dog be placed into a secure area while the visit is taking place, and this was relayed to the homeowner before the healthcare worker entered the residence. The homeowner acknowledged this regulation but failed to secure the dog."
The chief said there were no prior reports of the dog, named Steve, displaying aggressive behavior.  The owners said Steve, a pitbull mix, was six years old, and they told police of no prior issues. 
"The attack was completely unprovoked as the dog immediately attacked the healthcare worker upon her entering the residence," Heubusch said. "The family did surrender the dog to the Genesee County Animal Shelter with the expectation that it would be euthanized."
Undersheriff Brad Mazur confirmed on Wednesday that the dog was euthanized.
Previously: Mail carrier hailed as hero after stopping vicious dog attack in home on South Main, Batavia