November 25, 2013 - 11:37am
Drifter accused a second time of stealing money from churches in Genesee County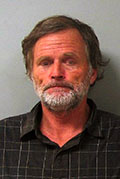 Stephen W. Quigley
For the second time in five years, a homeless man who travels between Syracuse and Ohio has been arrested in Genesee County and accused of stealing money from local churches.
Stephen W. Quigley, 59, is charged with petit larceny.
Det. Pat Corona said Quigley admitted to the thefts.
Batavia PD opened an investigation into money missing from local church collection receptacles in January 2012. 
Investigators had a description of a person using a device to remove cash from the receptacles, with the department receiving multiple reports of similar circumstances during the intervening months.
This morning, a witness to a prior alleged left spotted Quigley in Batavia.
Police located Quigley and questioned him. He allegedly admitted to larcenies from local churches on multiple occasions.
Le Roy PD arrested Quigley in June 2009 and accused him of stealing money from the candle prayer offerings of a church in Le Roy.
Quigley was jailed on $1,000 bail.
November 26, 2013 - 12:16am
#3
I've seen this man around for years. Mostly at local establishments going thru the outside ashtrays, fishing out butts that have some smoke time left to them. Not caring and not knowing where or who they came from! (I just threw up in my mouth!) Another trick, he walks into a local coffee shop, goes to a table where someone has left, picks up a cup with some coffee left in it, and sits there for a while, pretending (I think) to drink the coffee, and in the mean time he's out of the cold for a while. What can I say, I'm a people watcher.......
My wife and I always call him "The Butt Guy". I have thought many times of maybe offering him some money, maybe for a pack or two of smokes. Good idea, until I realize that cigarettes are nearly 10 bucks a pack!!!! What does he think, I'm made of money?
Now that I know he steals from the church, "The Butt Guy" will continue to be on his own. Sorry Quigley.....