June 11, 2012 - 4:46pm
Driver of golf cart involved in fatal accident enters a guilty plea to negligent homicide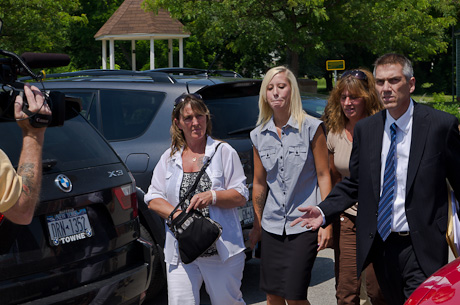 The 18-year-old Byron woman who is accused of causing the death of a friend entered a guilty plea today to negligent homicide and driving under the influence of drugs and alcohol.
Cortney L. Greene entered what is known as an "Alford Plea." The plea indicates she believes she would be convicted if the case went to trial, but does not admit factual guilt.
The District Attorney's Office agreed to the plea because Greene is facing a potential lawsuit in connect with the death of Zachary J. Rusin, 18, of Holley.
Assistant District Attorney Kevin Finnell recited the evidence against Green, which Green then agreed was sufficient for a likely conviction.
According to Finnell, Greene was operating all-black golf cart in the middle of northbound Route 237 just seven minutes after midnight, Nov. 26, when a car driven by Emmaleigh R. Odom, 19, of Pavilion, crested a hill near Warboys Road and stuck the golf cart.
Finnell said that with the hill and the lighting conditions, Odom had no time to react before her car struck the cart.
A blood alcohol test, Finnell said, found that Greene had a BAC of .04 and there were traces of marijuana in her blood.
Both Greene and Rusin were ejected from the vehicle. Rusin succumbed to his injuries two days later.
The maximum penalty for the homicide charge is four years in prison. Greene will also likely lose her driving privileges.
The plea did not include a sentence cap.
Greene will be sentenced Sept. 6.
June 11, 2012 - 6:10pm
#3
I have to disagree David, this is actually a better outcome then she could have hoped for. The actuality of being responsible for not only her friends death but the emotional scarring of the driver that really had no fault or responsibility, was jsut in the wrong place at the wrong time. No punishment meted out by the judge or jury can match what this woman would do to herself in the long haul, especially with her already using drugs and alcohol. Maybe she will get the help to avert a lifelong escape into these substances to escape her own conscience.