May 7, 2013 - 3:34pm
East Main Street home honored for outstanding exterior paint treatment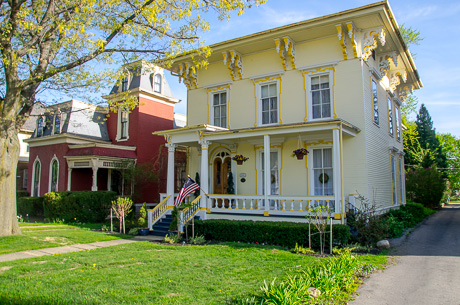 By Lucine Kauffman. Photo by Howard Owens.
Landmark Preservation Award
Michele & Robert Bialy
312 E. Main St., Batavia
Outstanding Exterior Paint Treatment
   
Michele and Robert Bialy purchased this 1856 Italianate-style home in 2009. Native Western New Yorkers, they had been living out of state when their jobs brought them back to this area.  They settled on Batavia, because it is half way between Buffalo and Rochester.
A slate walkway leads up to the front porch. The Bialys found a sandstone slab underneath the porch and set it in front of the porch steps. 
Robert rebuilt the porch railings before embarking on his painting project. 
And they stripped the paint off of the front door. The double-leaf door with an arched surround is especially decorative.
The Bialys picked a four-color scheme for their grand house and Robert did all of the painting himself:
Navy for the front porch floor and window shutters;
Pale yellow for the body of the house. The clapboards are set flush on the front of the house;
Gold and white to accentuate the architectural details such as the oversized paired brackets with pendants that appear to support the deep eaves of the hipped roof;
Corinthian capped fluted columns and pilasters;
The windows are topped by jigsaw-cut ornament and small bracketed hoods.
They pulled out some ragged holly bushes and finished up the exterior with new landscaping. At present, the Bialys are working on the interior.
It is with great pleasure that the Landmark Society of Genesee County presents Robert and Michele Bialy with an award the outstanding exterior paint treatment they have given their home; this historic, elegant Italianate-style house. Their efforts have made a significant impact on Main Street in the heart of the City of Batavia.