June 16, 2013 - 3:17pm
East Pembroke firefighters hosting fundraiser for 5-year-old with rare disorder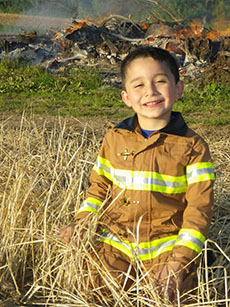 Members of the East Pembroke Volunteer Fire Department are organizing a fundraiser from noon to 5 p.m., Sunday, June 30, to assist Trey.
The 5-year-old is the son of heather Gill Palandino and Donald Newton Jr. He is being treated for Chiari Malformation (Arnold-Chiari), is a serious neurological disorder where the bottom part of the brain, the cerebellum, descends out of the skull and crowds the spinal cord, putting pressure on both the brain and spine causing many symptoms.
Newton is chief of the department and Julie Waldron said department members are ever grateful for all he does for the community.
"Donald and his family do a lot for our fire department and community and we would love to give back to them at this time," Waldron said. "We could never thank him enough for everything he has done for our department, and Heather and Trey, as well. They are all always there when we need them. We are one big family and we are helping our brother, our leader and his family."
The fundraiser includes a chance auction and a chicken BBQ. Pre-sale tickets for the BBQ are $9 and are available on Monday evenings at the department or from members.
June 16, 2013 - 4:09pm
#1
I myself has had it I had it Had decompression surgery to correct it.....I know a local surgeon that can correct it if they dont have one already.