March 16, 2015 - 6:24pm
Emily Helenbrook dreams big, works hard as she seeks career as opera singer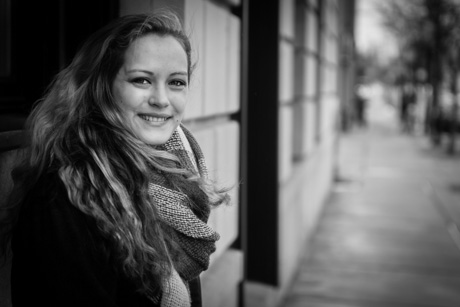 It's a long way from Alexander, New York, to the Metropolitan Opera House, much further than the 536 miles measured on a Google map, but it's the road Emily Helenbrook has traced in her dreams nearly all her life.
At age 20, Helenbrook is building the resume that just might carry her from small town to big city, including a sixth engagement March 27 and 28 with the Buffalo Philharmonic.
A student at Eastman School of Music at the University of Rochester, Helenbrook's aqua eyes glimmer when she talks about what she loves. 
"I'm obsessed with classical music," Helenbrook said. "I can't get enough of it. Even at Eastman, where everybody loves music and that's what they want to do with their lives, I'm still the one who is constantly listening to more music and I love it. My grandpa was the same way. Music was his life and seeing him as I grew and grew into being a musician, I saw how much he was devoted and I wanted to be like that."
That love of classical music began at home. Arias and etudes weren't something she was introduced to. It was what she was born into.  
Her grandfather, Mathew Tworek was an original member of the Buffalo Philharmonic Orchestra as a violinist, and master musician and a member for more than 60 years. Her aunt, Adrienne Gryta, was a vocalist and frequent performer with the BPO and Helenbrook's first vocal instructor.
Growing up, all three of the Helenbrook children were introduced to music. Older brother Jason, now a local auctioneer, played flute and twin brother Eric played piano.  
For Emily, music quickly surpassed the hobby stage, however, and became the driving passion of her life.
Passion is what carries her through the hard work of learning her craft and building a career.
People tend to think, Helenbrook acknowledges, that singers just get up and sing, but there's so much more that goes into it. Learning the intricacies of vocal technique is grueling and takes years to master. They also need to research repertoire, study languages and diction, and for performance they must learn more than their own parts, but know and understand other characters, the history of the period and the story.
And that's just the singing part of her life. There are the academics that go into earning her music degree as well as her second degree in political science.
None of that is daunting, though, Helenbrook said.
"For a break, it's my practice time," Helenbrook said. "I don't think of practice as a chore. It's still fun for me, even though it's hard work, it's still fun."
When she needs to get away, she comes home, where there's more space, more quiet and more green.
"I really do appreciate being home," Helenbrook said. "Being in the country is a good way to escape the humdrum of city life. I can't stand it after a while and coming back home to something more simple is really important with the sort of speed of classical music and trying to be a musician."
Success came early for Helenbrook. At 17 she won the Barry/Alexander International Voice Competition, which led to a performance at the Weill Recital Hall at Carnegie Hall and an afternoon-long voice lesson with her childhood idol, four-time Grammy winner Renee Fleming.
"She has the most beautiful voice and she's such a nice person," Helenbrook said. "She's a great role model for young singers. I always dreamed maybe some day I could sing for her and maybe she could teach me some things and that's exactly what happened and it was in her house in New York City. It was the craziest thing."
Performing at Carnegie was also a crazy thing, she said.
"That was an out-of-body experience that I don't remember as much as I would like," Helenbrook said. "It was kind of like a dream, in every respect."
It's hard to believe she won't make it back to that great venue. Talented, beautiful, hard working, passionate about her art and establishing the connections that build careers, Helenbrook is doing more than just dreaming.
She also understands, there are no guarantees, which explains the second degree in political science and her plans for law school after graduation. It's a long way from anywhere to the Met.
"Even really, really good singers don't make it," Helenbrook said. "I've seen people at the Met auditions and they're really good, but nothing happens because a lot of it is luck and being the right place at the right time. I know that and I'm trying to be realistic about it. I know what I want. I want to be a singer and I want to at least try to make a career of it, but it's also important to have a backup plan."
For more on Helenbrook's upcoming performance with the BPO and to purchase tickets, click here.
March 16, 2015 - 10:00pm
#1
"It's a long way from anywhere to the Met."
Reminds me of the old saw:
"Can you tell me how to get to Carnegie Hall?"
"Practice, practice, practice."
I'm sure of her talent, I'd bet on her drive. Great article.