October 29, 2011 - 8:45pm
Fences, and more, divide business neighbors in Stafford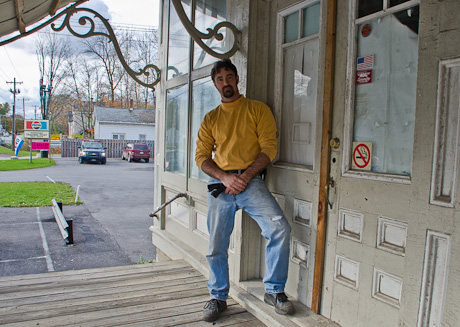 Robert Frost wrote that "Good fences make good neighbors."
Mr. Frost never met James Pontillo (pictured above) nor Tom Englerth.  
The two Stafford residents and fellow small business owners are in the midst of a dispute that has led to at least three visits by police and is making it more difficult for Pontillo to get his building renovated and a new business open.
"He drew the line," Englerth said. "He put up a fence. He said, 'you stay on your side,' so I told him to stay on his side."
In August 2010, Pontillo purchased a historic building at the intersection of Morganville and Main roads, Stafford. For as long as anybody can remember, there's been a store there that met community needs, but then Englerth put up a new building on land next door.
Shelley Macan-Mouery moved her business, the Stafford Trading Post, to Englerth's new structure. 
With his key commercial tenant gone, the owner of the former Stafford Odd Fellows' Hall, Terry Platt, decided to sell the building. He put it up for auction.
The Stafford Historical Society was concerned that the highest bidder -- possibly Englerth -- would tear down the 120-year-old building. The society secured $35,000 in financing to try and buy the building.
Englerth bid on the building, and the historical society bid on the building, but so did Pontillo and Pontillo won with a bid of $37,500.
And that, according to Pontillo, is part of the reason that Englerth is bent on disrupting his restoration efforts.
Plus Pontillo plans to open a store that will compete directly with the Stafford Trading Post.
Nonsense, says Englerth.
"I own the building," said Englerth. "I rent the store. The rent's the same regardless of what they do."
For Englerth, it's all about fences, he said.
First there is the fence that Pontillo put up, but then there is the fence that Englerth was forced to cut down from eight feet to six feet.
When Pontillo applied for a permit for his fence, he needed a variance to construct an eight-foot-high fence. Part of his argument for the variance was that Englerth had been allowed to construct an eight-high-foot fence.
But it turned out that Englerth never applied for, nor received, a variance for a higher fence than allowed by code.
Englerth accuses Pontillo of turning him in for the out-of-code fence, but Pontillo said that he spoke in favor of Englerth keeping his fence at a town planning board meeting. If Englerth had been granted a variance, Pontillo would likely also get a variance.
Neither got a variance, and Englerth had to take a chainsaw to the top of his fence.
Pontillo is convinced that Englerth has certain town officials on his side, such as Code Enforcement Officer Lester Mullen, whom he accuses of making random inspections on his construction work and roadblocking his efforts.
Mullen has been out on medical leave and wasn't available for comment.
Pontillo is planning to open a pizza shop that will include a deli, ice cream stand and grocery items (much like Stafford Trading Post) called "Talk of the Town." The new building name, which he said he's already trademarked, is "Pontillo's Place."
Other problems Pontillo has faced, he said, has come from the NYS DOT.
Pontillo said he's also been hassled by a guy named "Dan" from the NYS Department of Transportation over parking for the building, even though his parking plan is right in line with the parking that has always been available at the building.
But his problems with the DOT don't stop there. The DOT resurfaced Morganville Road (Route 237), creating a drainage problem that has caused his basement to flood (see photo below). The flooding has caused the hardwood floor on the first level to buckle in several areas -- after the restoration on the floor was almost complete.
The DOT, Pontillo said, has refused to either discuss compensation or fix the drainage issue.
Nonetheless, Pontillo is pushing forward with restoration.
This week he's had workers on the roof ripping off the old shingles with plans to install an entirely new roof.
Which brings us back to the two latest State Police responses to the location.
Pontillo rented a high-lift so his workers could safely get atop the three-story high roof and safely remove old shingles and bring materials to the rooftop.
When it came time for workers to work on the west side of the building, Pontillo asked Macan-Mouery for permission to park the high-lift on the west side of his building.
Since the property line is right at the edge of the building, the only place to park the high-lift was in the parking lot of the Stafford Trading Post.
Englerth reportedly called in State Troopers and accused Pontillo of trespassing.
The troopers said they believed Macan-Mouery had given Pontillo permission to park the high-lift where he did, but after Englerth complained, withdrew permission.
On Friday afternoon, the troopers had Pontillo move the high-lift from the Stafford Trading Post parking lot.
To work on the west side of the building, Pontillo's crews will need to use ladders, which is far less safe and will slow down work.
Meanwhile, on Friday and Saturday, Englerth parked his truck next to the west side of Pontillo's building.
On Saturday morning, he called State Police to complain that debris falling from Pontillo's roof damaged his truck.
Troopers responded but took no action on the complaint.
"The bottom line is he doesn't care about the safety of my workers," Pontillo said Saturday morning. "They could fall and get killed and he wouldn't care."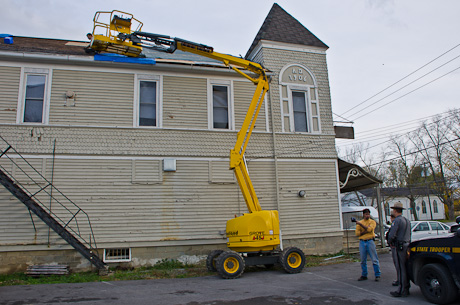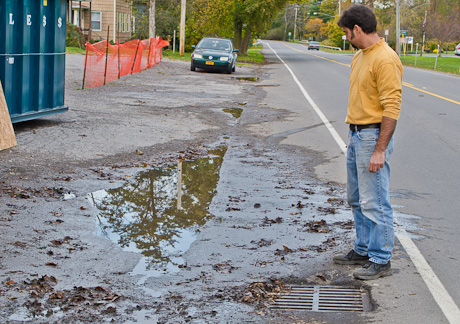 October 29, 2011 - 9:36pm
#1
Having been involved in a property dispute recently, I can suggest;
Look through all of the old deeds of both properties. Old "agreements" are sometimes over looked, but by law, must be adhered to until both parties agree to change them.
Hire a good attorney. They can do a lot of research also.
In my case it worked out in my favor. I got to see a 60 year old "agreement" dissolved, for non-complience by my neighbor. Turned out I had four plus feet more of property than I thought I did.
Disputes like these can come down to give and take. In my case, I had to let the neighbor have the extra four feet of property, so I could erect a fence on the property line, to permanently separate the two properties.
Seems to me, that if you have properties as in this story, there would have to be a provision, a law, a rule, either through the county or the town, that a person has to be allowed some freedoms, in order to maintain his / her property.....I'm just sayin'