June 4, 2012 - 12:54pm
Former aide files ethics complaint against Sen. Ranzenhofer
UPDATED at 1:08 p.m. with response from Sen. Ranzenhofer. UPDATED 2:15 p.m.: Response from Ranzenhofer clarified regarding cooperation with commission.
A former member of Sen. Michael Ranzenhofer's staff who claims she was fired for backing the wrong congressional candidate has sent a formal complaint to the Joint Commission on Public Ethics.
The complaint alleges that Ranzenhofer violated Public Officers Law 73, 17(c) by requiring paid legislative staff to work on political campaigns.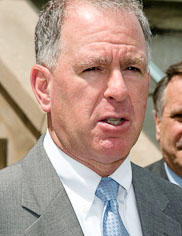 Michelle McCulloch, a 45-year-old Attica resident and mother of four children, was on the state payroll as an aide to Ranzenhofer until April 30.
McCulloch said she was never given a reason Ranzenhofer terminated her employment, but she believes it was because she backs rural Republican David Bellavia while Ranzenhofer is closely allied with the Erie County GOP and that county's candidate, Chris Collins.
(Previously: While Ranzenhofer claims neutrality in congressional race, petitions for Collins seem to tell a different story)
Reached earlier today, Ranzenhofer said he had not yet seen the complaint and "I find it ironic that you've seen it before I did."
He said any response he would have at this point would be the same as May 11 when he denied asking staff to do anything out of the ordinary, but said he couldn't discuss McCulloch's dismissal since it's a personnel matter.
He said he might comment further after he's had a chance to read the complaint.
The ethics complaint, McCulloch said Sunday, isn't really about her firing, though.
"Honestly, I've been asked many times if I'm crazy for going forward with this and I am afraid of retribution," McCulloch said. "I happen to know a lot of people who are in the same situation I was in and everybody is afraid to speak up.
"Constituents are supposed to be able to believe in their elected officials," McCulloch added. "It's an honor to serve constituents and when elected officials don't behave in an ethical way, it needs to be brought to public light. I hope this will inspire others to come forward and stop what is going on."
McCulloch believes Ranzenhofer's alleged violation of the public officers law is "pretty black and white."
The law reads:
No state officer or employee shall, directly or indirectly, use his or her official authority to compel or induce any other state officer or employee to make or promise to make any political contribution, whether by gift of money, service or other thing of value.
According to her complaint, which was delivered Friday to the commission and Senate Majority Leader Dean Skelos, Ranzenhofer forced staff to deliver signed petitions for the Conservative Party line to the campaign of Collins.
Collins, a businessman and former Erie County executive, is running against Iraq War veteran and Batavia resident David Bellavia for the GOP nomination in the reconfigured NY-27.
McCulloch, a lifelong resident of Attica and longtime member of the Wyoming County GOP Committee, is supporting Bellavia for the nomination.
Wyoming County is outside of Ranzenhofer's senate district.
According to McCulloch's sworn statement, some time in late March, Jon McNulty, a field representative for Ranzenhofer and an ally of Erie County GOP Chairman Nick Langworthy, informed Ranzenhofer staff members that the senator wanted each one to determine a time when they could commit to circulating petitions on behalf of the Collins campaign.
"We were to use either personal time or comp time to fulfill this obligation," said McCulloch, who added she felt no choice but to comply.
It was up to Ralph Mohr, an Erie County GOP Committee member, to determine the locations of the petition drive.
On or about April 1, Mohr arrived at Ranzenhofer's legislative office with a packet of prepared Conservative petitions and lists and maps of registered Conservative Party voters in the Town of Newstead, Village of Akron and a portion of the Town of Clarence.
Mohr allegedly told staff members that Ranzenhofer requested the petitions.
"At this time, I and another staff member indicated to Jon McNulty that we did not wish to pass petitions for Christopher Collins," McCulloch wrote. "Mr. McNulty told the staff this was a team effort and the senator expected cooperation from the full staff."
According to McCulloch, passing petitions for Collins wasn't a novel requirement. Staff was required, according to McCulloch, to volunteer for Collins during his failed bid to win reelection as Erie County executive.
The chief reason, according to sources, that taxpayer-paid legislative staff members often have notary certificates is so they can collect signatures on minor party lines. According McCulloch, McNulty directed staff members to ensure their notary qualifications were up to date.
On April 4, the Republicans in Wyoming County endorsed Bellavia, and McCulloch subsequently passed Republican petitions for Bellavia outside of Ranzenhofer's district.
On April 9, Bellavia asked McCulloch to be among the Wyoming County Republicans on his steering committee.
"I personally felt he was the best candidate in the race," McCulloch wrote.
On April 17, Bellavia announced the names of those on his steering commitee, which included McCulloch and another Ranzenhofer aide, former Genesee County Legislator Jerome Grasso.
Soon after the announcement hit the Web, the wrath of McNulty and Langworthy came down on McCulloch, according to her statement.
She described McNulty, who was in her office when he got a test message about the committee, as "visibly angered."
During the course of the day, McCulloch said, there were several conversations about Grasso and McCulloch supporting Bellavia and McNulty felt Ranzenhofer should "lay down the law" and demand that Grasso and McCulloch withdraw their support of Bellavia.
On that same day, Grasso and McCulloch met with Ranzenhofer's Chief of Staff Kathleen Donner. Donner, according to McCulloch, told the two staff members that she didn't think Ranzenhofer would have a problem with their participation in Bellavia's campaign. An hour later, she called McCulloch back into her office and said that at the direction of Ranzenhofer she was to discontinue her support of Bellavia.
At about 6 p.m., Ranzenhofer called McCulloch.
"He indicated he was very disappointed in my participation with the Bellavia Campaign Steering Committee," McCulloch wrote. "He stated his political consultant Mr. Hook had contacted him regarding this issue and that Mr. Hook was not happy, either. He also stated I was not to do anything political, at any time, without informing him. This included any actions I may take as a committeewoman with the Wyoming County Republican Committee."
McCulloch was an elected member of the committee.
On April 26, Bellavia contacted McCulloch and informed her he would be attending a fundraiser hosted by Wyoming County Republicans and asked if McCulloch and her husband could provide some introductions to local GOP members. She said she introduced Bellavia to no more than eight people.
The next day, believing she was following Ranzenhofer's instructions, she emailed the senator and informed him of her political activity.
On April 30, McCulloch was summoned to Donner's office. 
"She was visibly upset," McCulloch wrote. "She said this was the hardest thing she has had to do and then she informed me the senator was no longer in need of my services effective immediately."
It was a tough decision, McCulloch said in last night's interview, to go forward with the ethics complaint, but she's received a tremendous amount of support from fellow GLOW Republicans.
"When I did my own thing and in my own county, that's when I was chastised, McCulloch said. "If they can do that to me, who else can they do it to, and who might be afraid to speak out?"
GLOW Republicans, McCulloch believes, are getting fed up with the Eric County GOP trying to dictate politics in rural communities, and she hopes that if her ethics complaint is upheld by the commission, it will send a message about the end of power politics locally.
"I went back to school in 2001 and graduated in 2006 because I believe we need a voice out here as much as any community, maybe more," McCulloch said. "We are good, hard-working people in Wyoming and Genesee counties. We shouldn't be beholden to Erie County."
The complaint against Ranzenhofer is the second big case sent to the new joint ethics commission, which was formed by Gov. Andrew Cuomo about six months ago.
The other case, a complaint against the second most powerful man in the Senate, Sen. Thomas Libous, has created some controversy for the commission because of an alleged leak about the status of the case.
The commission, charged with fostering a more transparent government,  operates in secret and leaks of its proceedings are criminal acts.
Ellen Biben, the commission's executive director, has the power to open a preliminary investigation on her own, but a full investigation requires the support of eight of the 12 commissioners, including at least one of the three Republican senators on the commission.
The commission has 45 days to decide whether to proceed.
If there is an investigation, McCulloch, Grasso, McNulty and other staff members would likely be asked to provide sworn testimony.
Ranzhenhofer can choose to be represented by an attorney. He said today that he would cooperate completely with the commission if there is an investigation.
The commission will not publicly disclose whether an investigation is taking place and only its findings would be made public. If the commission finds against Ranzenhofer, any potential sanctions are the purview of a legislative committee.
Ranzenhofer is facing a reelection challenge from Democrat Justin Rooney.
Meanwhile, according to sources, Ranzenhofer, who has publicly proclaimed neutrality in the race between Collins and Bellavia, appeared at two events that Collins also attend in Genesee County on Friday -- a fundraiser for Genesee Cancer Assistance at Batavia Downs and a Rotary Club function in Le Roy. Grasso typically is with Ranzenhofer at any appearance he makes in Genesee County. Grasso, who remains on the Bellavia steering committee, has not returned a call seeking comment and clarification.
Today, Ranzenhofer said any attempt to tie his appearance at these events with Collins was "one of the most ridiculous things I've heard."
"I'm an elected official," Ranzenhofer said. "I got invited to the cancer event by Joe Gerace and the event in Le Roy was at Grasso's Rotary Club. The events were on my schedule. I have no control over who else shows up at these events."
"I find it ironic that you've seen it before I did."
Perhaps Senator, it might be more of a concern to you as to the content of the complaint and it's validity. It would seem to me that question is no longer the personel matter, but whether or not your staff was directed to gather petitions for another candidate on our dime.