January 4, 2013 - 10:52am
Former Le Roy resident pleads guilty, but doesn't admit threatening deputy with knife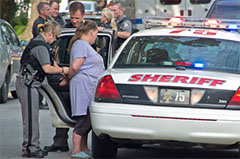 A former Le Roy resident who was involved in a scuffle with police June 17 when a deputy tried to arrest her son entered a guilty plea today to one charge against her but would not admit to using a knife against the deputy.
Elaina J. Mead, 43, formerly of 21 Maple Ave., Le Roy, now a resident of Varysburg, entered a guilty plea to attempted menacing a police officer under what's known as an "Alford Plea." It means Mead believes a jury would convict her at trial, but she's not admitting to the actual events alleged against her.
Mead did admit that she tried to interfere with Deputy Matthew Butler's attempt to arrest her son, 25-year-old Michael Mead Sr., on a warrant (see correction below), but when Judge Robert C. Noonan asked her if it was true that she placed a knife to Butler's chest and placed Butler in fear of his life or serious injury, she said she did not.
The plea satisfies all counts against Mead, which included assault, 2nd, criminal possession of a weapon, 3rd, and obstructing governmental administration, 2nd. The maximum sentence under the terms of the agreement are up to 15 days in jail and four months intermittent jail time and a $5,000 fine.
Assistant District Attorney Kevin Finnell said that if the case went to trial, Officer Emily Clark, Le Roy PD, would testify that Michael Mead was resisting arrest and she and Butler were wrestling with him when people from inside 21 Maple Ave. started throwing small household objects at the officers.
Clark would say, Finnell said, that she saw Elaina Mead exit the house with a knife in her hand and approach Butler and place the knife against Butler's chest.  According to Clark's version of events, Clark yelled, "knife, knife," and then let go of Michael Mead's legs and knocked the knife from Elaina Mead's hand, sustaining a small cut in the process.
Last month Sheriff Gary Maha presented Clark with a Certificate of Appreciation and Butler a Commendation for their conduct during the confrontation.
UPDATE and CORRECTION: We should have included that Mead could also get five years probation. Also, the information that Butler was at the residence to execute a warrant is a mistake from the initial report that I forgot (while writing this) was later corrected. Butler and Clark went to the residence to question Michael Mead on an alleged violation of a court order investigation. When Butler attempted to arrest Mead, that's when he allegedly resisted arrest.
January 4, 2013 - 12:24pm
#1
When the police show up to do their job, you're better off going with the flow and sorting it out later. They're there to do a job and will carry out their task even if they need to call for help. Even if you're right and they're wrong, just do what they say and it will all be resolved. You can't win and besides, cops have a memory like an elephant. They remember you once they've had contact with you...just sayin...
January 4, 2013 - 1:05pm
#2
I'll tell one thing. The neighbor is alot more quiet since the left!
January 4, 2013 - 1:13pm
#3
Those officers showed a heck of a lot of restraint as well. Imagine pulling a knife on a couple of Buffalo cops. If they didn't empty their clips into her, at the very least she would have gotten a few licks upside the head from the baton. Like Doug said above, go with the flow, you pull a knife on a cop and all bets are off. She better understand how lucky she is.