February 26, 2013 - 12:11pm
Francis Smith faces seven more burglary charges in Batavia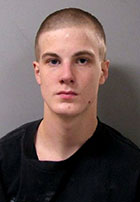 New burglary charges have been filed against Francis S. Smith, 19, formerly of 20 S. Main St., Batavia, who was arrested Jan. 1 while allegedly committing a burglary on Washington Avenue.
Batavia PD announced this morning that Smith is now a suspect in burglaries on River Street, South Main Street, Pearl Street, Madison Avenue and Franklin Street.
In all, he faces seven new burglary charges to go along with the initial charge from Jan. 1 as well as two additional charges brought by the Sheriff's Office earlier this week.
Smith is being held in the Genesee County Jail.