February 17, 2015 - 9:57am
Genesee Chorale rehearses for 'American Bandstand' show Feb. 20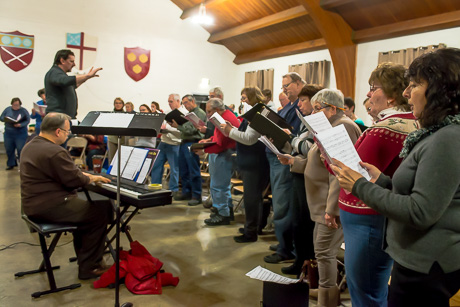 The Genesee Chorale will perform a show at 7 p.m., Feb. 20, at Northgate Free Methodist Church, south campus, built around the theme of American Bandstand.
A stage set is being built to replicate Dick Clark's old set, Pat McHanon will perform as Dick Clark, and between songs, old clips of Dick Clark interviewing some of the great artists who appeared on American Bandstand will be featured.
The musical selection will include hits by Sam Cooke, Etta James, the Everly Brothers, Dusty Springfield, Bobby Darin, Leslie Gore, the 5th Dimension, the Mamas and the Papas, Peter, Paul and Mary, Otis Redding, among others.
The Chorale is conducted by Ric Jones.
Photos are from last night's rehearsal at St. James.