March 1, 2012 - 10:39am
Genesee County's congressional fate very different in competing redistricting plans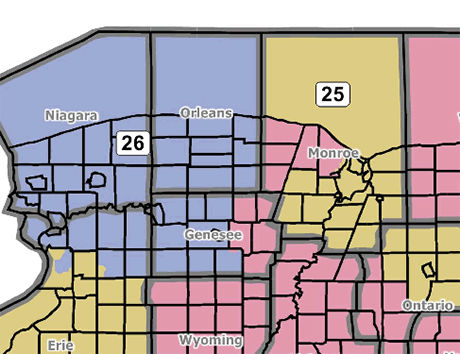 Redistricting plans unveiled last night by a New York court reviewing the proposals indicate Republicans and Democrats in Albany have very different views of how Genesee County should be represented in Congress.
One plan splits the county in two and another plan keeps Genesee County whole.
One plan would seemingly make it easier for Rep. Kathy Hochul to retain her seat in November's general election. The other plan would seem to make an election fight tougher.
Both plans presented by the legislature -- the Democratic majority in the Assembly and the Republican majority in the Senate -- say that one of the aims  is to protect incumbent seats.
"Preserving the cores of existing districts — sometimes also referred to as incumbency protection — is a well-established, traditional districting principle in New York," reads a legal brief prepared by Republicans in the Senate.
The Senate memo cites several legal precedents saying that preserving relationships between legislators and constituents is a legitimate legal concern, and that for congressional seats, protecting seniority of house members is important to maintaining the state's influence in the lower chamber.
Democrats in the Assembly prepared a similar memo.
The Democrats also said they put a high value on protecting minority representation (as required by prior legal cases), so for the NY-26, the district includes all of urban Buffalo and Niagara County. It also includes other portions of Erie County and all of Orleans County, but in Genesee County the towns of Le Roy, Stafford, Byron, Bergen and Pavilion are in Rep. Tom Reed's NY-24 district.
The Republicans plan -- which is somewhat similar for WNY to a plan presented by Common Cause -- keeps Genesee contiguous and keeps the entire GLOW region as part of the same district.
In that plan, all of Niagara County and a portion of Erie County are part of the NY-24, making the district almost entirely rural.
The court could make a decision on a redistricting plan by some time Friday.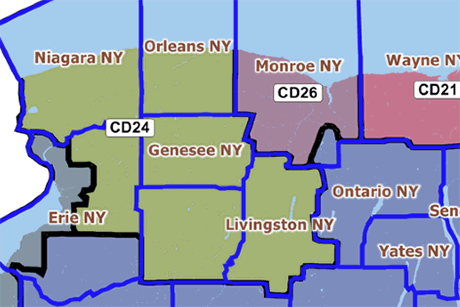 March 1, 2012 - 11:30am
#1
I am not happy to be represented by Tom Reed. He is for protected the southern tier. Hope we can keep Kathy Houchel!
March 1, 2012 - 5:29pm
#2
Elected officials represent districts or areas, not individuals or parties. How does district representation work when a person can have one representative and his neighbor across the street has another. Counties, let alone towns should never be divided between two elected officials. Recall that these jobs were never meant to be full time careers but they have created such a convoluted system of self protections that even they can't see the forest through the trees.
March 3, 2012 - 12:41pm
#3
Will these things be put to a vote or is this something that the tax payer and the voters will have no say so over, once again. I hope this gets straightened out for everyone's good.
Redistricting is not always a good thing but it isn't always bad either but there has to be a happy medium with more games so that the people are represented well.