November 2, 2012 - 12:28pm
Grease Lightning kicks off canned food drive for the holidays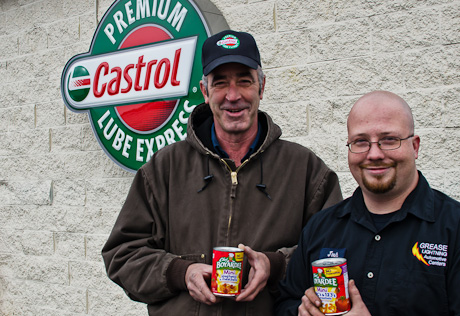 Scott Levensailor, owner of the Grease Lightning and Castrol Premium Lube locations in Batavia, and his staff member Josh hold cans of donated spaghetti.
The two stores -- 4003 W. Main St., Batavia, and 50 Liberty St., Batavia -- are accepting canned good donations this holiday season in support of the "Give to Live" program. The donations will provide food to needy families through the Salvation Army.
Each canned food item donated will mean a $10 coupon for customers on their next oil change.
Southside Deli will be providing a donation of several cans latter this week to help kick off the drive.
Levensailor took over the stores Sept. 1 and he said one of his goals is to make sure local residents know he wants the businesses to be connected to the community and for customers to know they can rely on his shops for fast, friendly and honest service.
He said he wants to run the kind of business that is built on trust.
"My business philosophy is I want every parent in town to feel they can send their daughter to me and know she's going to be treated fairly with no tricks that are going to drain her of her pocketbook."