January 15, 2012 - 3:04pm
'Hammer Head' 'incense' blamed for seizure of youth in Le Roy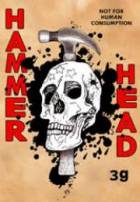 UPDATED 3:27 p.m.
Emergency personnel were dispatched Saturday night to an address on Gilbert Street in Le Roy for a report of a youth having a seizure.
Le Roy Ambulance and Le Roy PD arrived on scene and learned that the seizure victim had allegedly smoked "Hammer Head," advertised as "incense" and "not for human consumption."
While on scene, police took into custody Tyler F. Longhini, 20, of 12 Myrtle St., for alleged underage possession of alcohol with intent to consume.
Longhini reportedly agreed to a breath test and allegedly blew a .19 BAC.
Police report that Longhini admitted to consuming Black Velvet whiskey while in the parking lot of McDonald's in the hours prior to police being dispatched to Gilbert Street.
Longhini was issued an appearance ticket and turned over to his grandmother.
Officer Emily Clark said there were three people at the Gilbert Street residence who said they had smoked the "incense," but only one of them suffered a seizure.
She said one of the people on scene said that the "Hammer Head" was purchased at a retail store on the Tonawanda Indian Reservation.
The seizure victim was transported to the hospital by Le Roy Ambulance and the remaining "Hammer Head" product was sent with the patient for medical personnel information.
Clark said this is the first time she's responded to the scene of a medical problem allegedly related to consumption of puportedly synthetic marijuana; however, she has responded to the scene of medical situations involving so called "bath salts." She said she's heard that other members of her department have responded to similar cases.
The victim's name has not been released and we have no information on his or her condition.
Previously: Potentially dangerous synthetic drugs readily available in Genesee County
January 15, 2012 - 3:43pm
#4
How about as parent we do not close our eyes or turn the other cheek. The problem is it is legal and available. The kids think because it does not show up on a toxi's they are getting away with something. This is a serious problem in this community and other communities around here. Those pills your missing lead into bigger things like this. They think because it is legal it is ok to use. Time to open our eyes as parents. Just because you do not acknowledge it does not mean it is not happening.