February 26, 2014 - 3:17pm
Hens takes leadership role among his peers, aided by 57-year county employee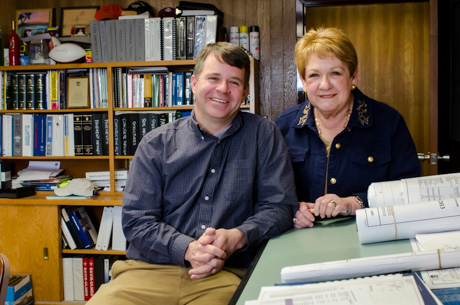 County Highway Superintendent Tim Hens is about to fill a role occupied by two of his predecessors -- NYS County Highway Superintendents Association.
What's unique, perhaps, is that Laura Mullen, a principle financial clerk with the highway department since 1957, has work for both of the previous presidents from Genesee County.
That would be Joe Amedick, who served in 1987 and Bob Carrier, who served in 1959.
Now part-time, Hens finds Mullen indispensable.
"She knows where thr vendor files are from ions ago," Hens said. "She knows where bridge files are, road files are. Any bit of information I need, she knows exactly what box it is in in the storeroom."
When Hens started his job 16 years ago, there were no computers. He said he couldn't work like that, so his computer was the first in the department. 
Mullen, already with more than 30 years on the job, jumped right in with automation and took classes at Genesee Community College on her own time, at her own expense, to learn Microsoft Office.
Hens said Mullen will fill in wherever she's needed.
He has his own kind of seniority going. At 16 years on the job, he's the fourth or fifth most senior county highway superintendent among the 57 counties in the state.
The association, he said, serves an important role in helping the state's highway departments and public works departments share information and best practices as well as lobbying Albany to maintain funding for roads and bridges.
If a member has a question, they jump online, ask it, and might get 30 answers.
"You learn something from other counties or something that somebody has already done and that saves you a lot of time and a lot of hassle," Hens said.