September 4, 2013 - 7:27pm
Jason Jewett remembered with love, honor and respect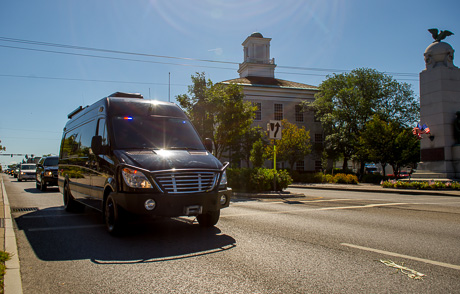 Honor, duty, country. For Jason M. Jewett, those words were more than platitudes, said family and friends following his funeral today in North Pembroke.
His coffin was draped in stars and stripes when it arrived at the cemetery after a procession of more than 100 cars through Batavia and East Pembroke. Two honor guards, with white cotton gloves and golden aiguillettes, removed the flag from the casket and with solemn precision folded it into a razor-sharp triangle.
A guard raised his white-gloved hand toward the deep blue sky. Honor, duty, country, he pronounced loudly enough for God to hear.
"For a young man, he was very patriotic," said his mother, Joyce Jewett, after the service. "He loved his country. He loved his fellow man. He helped people in need everywhere he saw people in need. For a young man with a short career, he accomplished a lot in a short time."
Jewett was an agent with ICE and helped train the agency's Special Response Team.
Team members traveled from as far away as Texas to honor their comrade, who died Friday in a traffic accident on East Eden Road, Eden, in Erie County.
More than 250 people attended his funeral.
The Oakfield native touched many lives, making friends instantly with everybody he met, regardless of race or background or means, said longtime friend Nathan Fix.
"He could walk into a room and, even though you never met him, you would smile," Fix said. "He would smile. He had no enemies."
Deputy Joseph Corona counted Jewett as his best friend.
It was Jewett who lured Corona into law enforcement.
"Law enforcement is a path we both enjoyed," Corona said. "He made me passionate about it and made me want to strive for more. He opened doors for me when I had turmoil in my life and uncertainty, and he always led me on the right path."
The outpouring of love for Jewett following his death came from all quarters and from around the country. It showed, said Corona, what a special man he was.
"I'm happy that he was so loved," Corona said. "Everything that he represented was represented here today."
Joyce Jewett said the funeral was not an end, but a transition.
"Right now, we don't consider him gone," Joyce said. "We consider him onto the next mission. God has a mission for him."
Jewett received a 21-gun salute, taps on a trumpet and "Amazing Grace" on bagpipes. His perfectly folded American flag was presented by a member of the SRT to Joyce and his father Joe. The gloves that folded the flag were laid to rest on the casket.
One-by-one, members of SRT placed their division patches on top of the casket. The INS guards filed through the tent where family sat and each gave each member of the family a hug. Then Jason's parents walked over to the line of SRT members and the line of Sheriff's deputies and officers and hugged each of them. Joe Jewett had a private word with each man. Men and women in the assembled gathering sniffled and cried.
 "Jason deserved this," Joyce said. "He worked hard and he loved his job."
Fix said in their long friendship, they never drifted apart even as their careers took different paths.
"No matter what Jason did, it was always the right thing," said Fix, who first met Jewett when they were security offices together at Darien Lake years and years ago. Jewett helped Fix when he needed it most and they were neighbors in Oakfield for awhile.
"It was an honor to be at the funeral today," Fix said. "He was like a true guardian angel."
Everything happens for a reason, Joyce said. God has a plan. He brought Corona and her son together and built a special bond between them. That friendship helped form new relationships between ICE and the Sheriff's Office, she said (and Fix, who is a dispatcher and volunteer firefighter agreed). Before, agents and deputies might talk on the phone, but now they know each other personally, Joyce said. That relationship will improve both agencies, she said.
Corona said will never forget his friend.
"He is buried here in a part of a town that I patrol and I'll be here every day that I can be to pay my respects," Corona said. "He'll always be remembered as my best friend."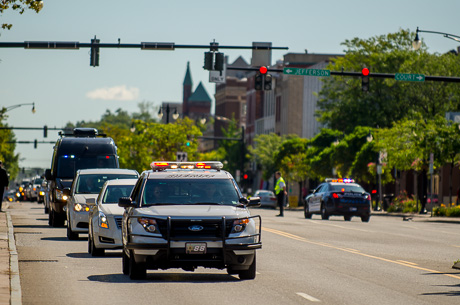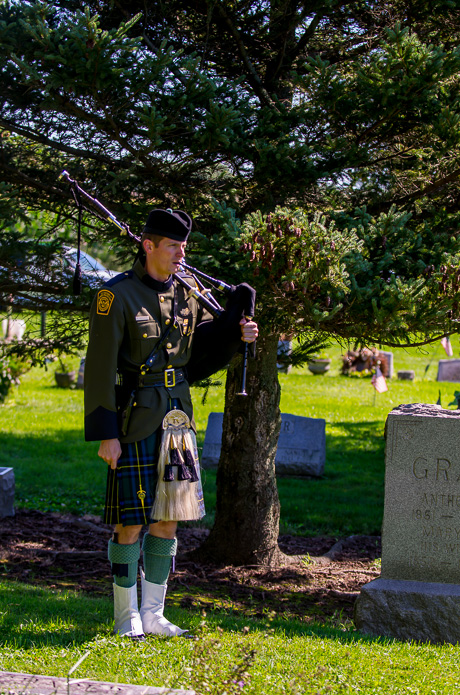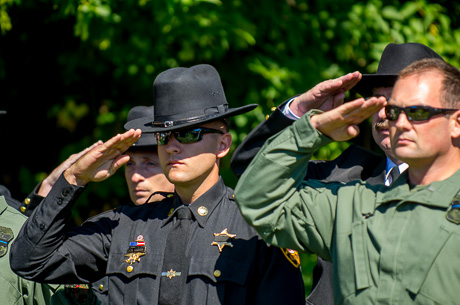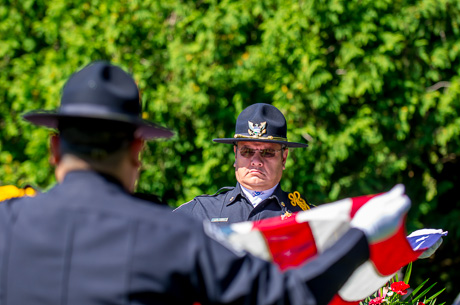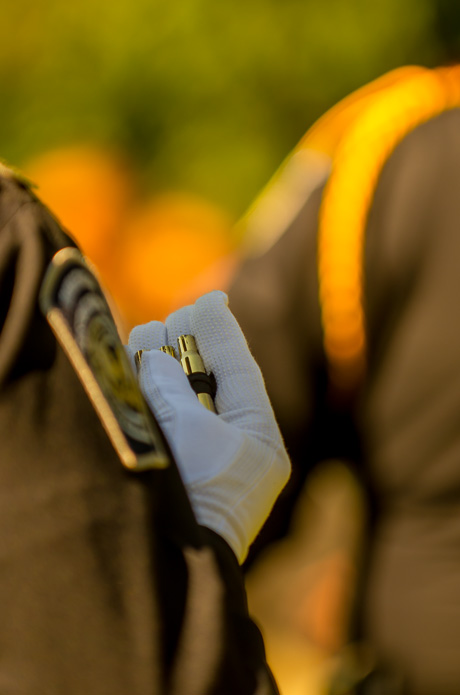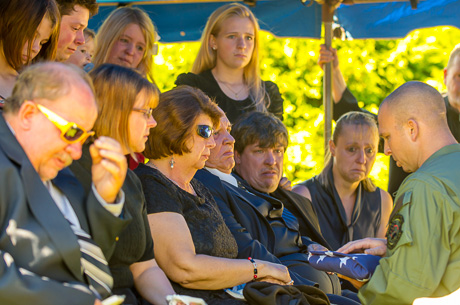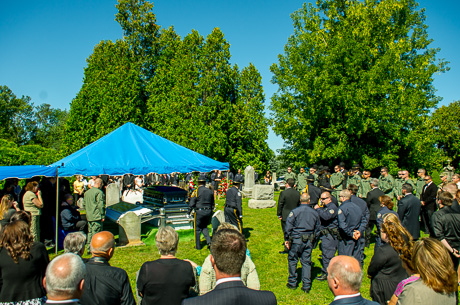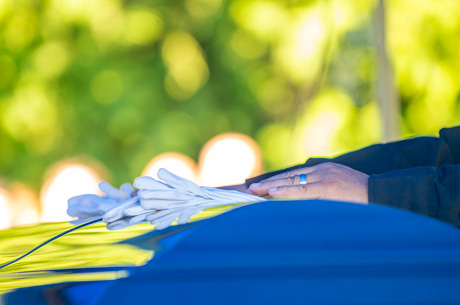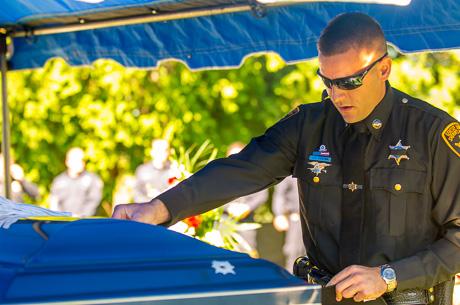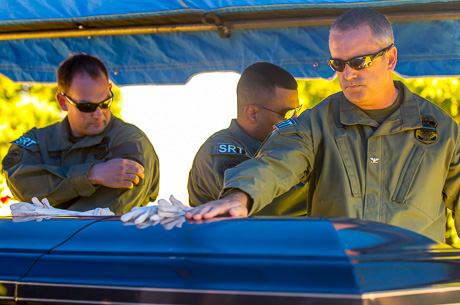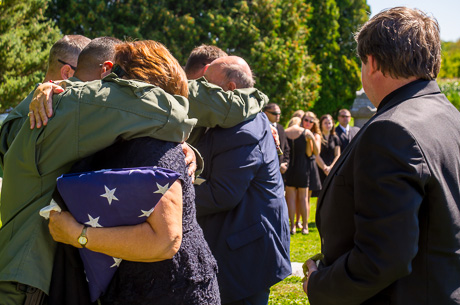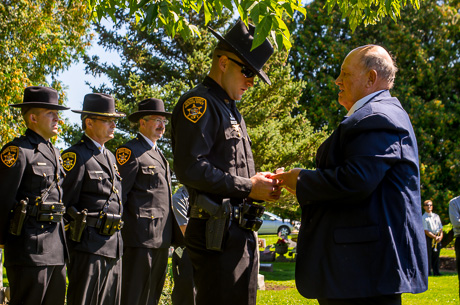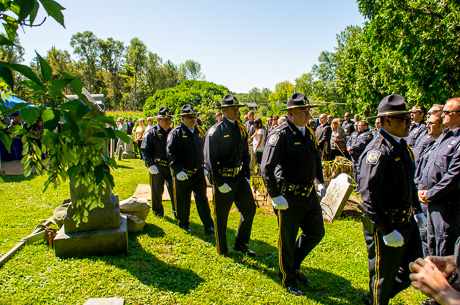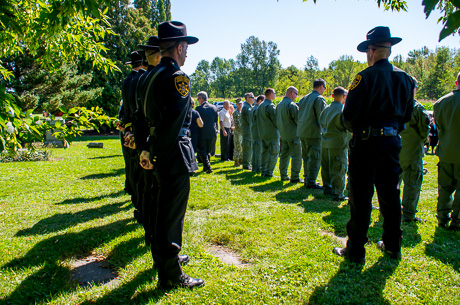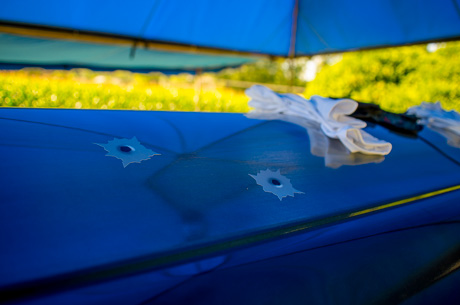 Joyce Jewett found a few bullet hole stickers among her son's belongings, so she gave them to SRT members and Joseph Corona. Jewett like a good practical joke, she said, and putting the stickers on his casket is the kind of thing he'd appreciate, she said.
September 4, 2013 - 10:48pm
#1
I didn't know Jason. Reading about him, and seeing the pictures here, I wish I had known him. A dedicated young man, a loving son, and a wonderful, loyal friend. My condolences to all who knew him.