May 23, 2014 - 3:03pm
Jim Neider named to State Senate's Veterans Hall of Fame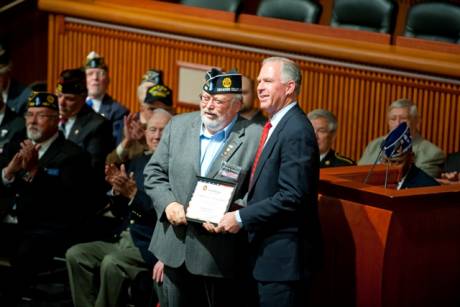 Press release:
United States Army Specialist 5th Class James B. Neider has been selected – by State Senator Michael H. Ranzenhofer – as a New York State Senate Veterans' Hall of Fame Honoree for the 61st District for his gallantry in the U.S. Armed Forces and service to the community.
Neider volunteered to serve in 1968 after receiving a bachelor's degree in Education. He served in Germany with the 3rd Armored Division's 503rd Military Police Company.
"While Jim first enlisted decades ago, he remains committed to serving his country to this day. As a founder of the Joint Veterans' Honor Guard of Genesee County and with his efforts to locate a National Military Cemetery to the region, Jim's service to his fellow veterans and their families is unwavering," Ranzenhofer said. "Jim exemplifies compassion, advocacy and dedication to our local veterans."
"It has been such an honor to travel to the State Capitol and join so many distinguished veterans as a member of the State Senate's Veterans' Hall of Fame. Thank you to Senator Ranzenhofer for nominating me. Working with veterans is all that I do, and this honor serves as inspiration to continue advocating for veterans in Genesee County," Neider said.
Neider earned Master of Science degree in Education on the G.I. Bill upon completing his military service, then started teaching at an elementary school in Alexander. He retired in 2000 with 30 years of service. He also served as Batavia Town Justice for 14 years. Today, he is an instructor for the American Legion's Flags for First-Graders program and a coordinator for the annual Four Chaplains' Sunday. 
Neider has received numerous awards for his distinguished service: the National Defense Service Medal, Good Conduct Medal and Expert M-14 Badge. He has also served in numerous leadership positions, including: chairman, Genesee County Joint Veterans' Council; president, Genesee Veterans' Club; board member, Genesee Veterans' Support Network; chairman, Batavia Memorial Day Committee; and treasurer, Genesee County War Memorial Fund.
Jim and his wife, Mary Ann, live in the Town of Stafford.
Congrats Mr Neider!! Thank you for your service in the military, the classroom and as a judge.
May 24, 2014 - 11:12am
#3
Congrats Sir! A very well deserved honor!!!!