April 16, 2013 - 11:14am
John Gardner Conference attracts scholars and fans from far and wide
This item was submitted by Byron Hoot, from Wexford, Pa., who has made a couple of trips to Batavia in the past year in connection with his appreciation of John Gardner, including this past Saturday's John Gardner Conference at GCC.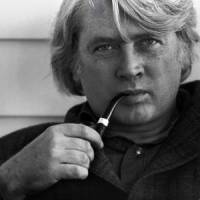 "The letter killeth, but the spirit giveth life." So began the first presenter for the 15th Annual John Gardner Conference hosted by Genesee Community College organized by Tracey Ford and Charley Boyd of GCC, coordinated by Sandy Hortdahl of Northeast State, Tennessee. 
It was "the spirit (that) giveth life" throughout the conference. The spirit of Gardner was alive and well among the conference attendees, who came from across New York state, Pennsylvania, Maryland, Massachusetts, and Rhode Island. 
Presenters spoke on a wide range of topics, from Paul Johnston's "Taggart Hodge, Antinomian" to John and Helen Maier's reading of "The Miller's Tale" in Chaucer's Middle English, to Denise Divins' probing look at the archetypical world of Grendel. In addition, there was Bette Smith's excellent performance of Gardner's one-act play, Days of Vengeance, and Jennifer Duncan's talk of Gardner's influence on her own writing. 
Attendees had a chance to examine some of the original Gardner materials housed at GCC and overseen by librarian Phyllis Andrews. Finally, as a visual coda, there was a screening of "The Sunlight Man," a documentary made by Gardner's son, Joel. As important as the ideas and insights, the presence of Gardner's brother Jim and his wife, Wanda, added the personal touch of stories from family members who loved and love Gardner still.
A pilgrimage to the Pok-a-Dot for lunch gave conference attendees added time to socialize. A hidden gem, Genesee Community College deserves much credit for keeping alive the spirit of an important American writer. This is a pilgrimage well worth making.