August 28, 2012 - 10:25am
John Gerace hopes to convince voters he deserves board seat he resigned just months ago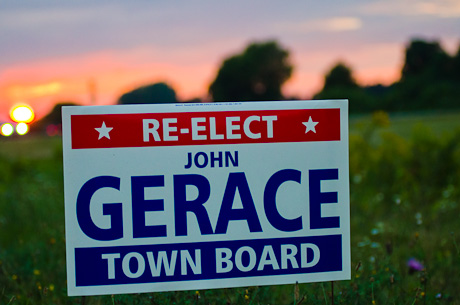 The signs say "Re-Elect John Gerace, Town Board," but it's not that simple.
Gerace is not the incumbent in Batavia.
Chad Zambito is. He was appointed earlier this month to the seat vacated by Gerace in the spring.
Gerace has been trying to get the seat back ever since his letter of resignation, which he says was written in a "knee-jerk reaction," was accepted by Supervisor Greg Post.
As for Zambito, he's not overly concerned about Gerace posting "re-elect" signs.
"I don't think he's necessarily trying to confuse the issue," Zambito said. "I just think they're from a prior election."
Gerace said he figures he can run for reelection because he's been elected before.
Of course, so has Zambito.
Both were first elected to the town board in 2003, and then Zambito resigned in 2007 when he became VP of marketing for Genesse County Economic Development Center, causing a possible conflict of interest.
Now they face each other in a GOP primary Sept. 13 that is the result of Gerace's resignation in April.
At the time, Gerace wouldn't discuss his resignation. Now he acknowledges it was spurred by events at the awards and installation dinner for the Town of Batavia Volunteer Fire Department.
Gerace was intoxicated at the event and was observed being loud and boisterous.
What happened later in the evening isn't clear, but Gerace said that contrary to various rumors, he was not involved in a physical altercation with Supervisor  Post.
He said he and Post had words outside of the fire hall about his behavior, and some people followed them out to see what was going on, but that was it.
"I held myself up to a higher standard than most people being an elected representative," Gerace said. "(My resignation) was a knee-jerk reaction. The next day I spoke with the supervisor about it and he asked me what I should do and I said I would fire myself. It was a knee-jerk reaction."
Even though he acknowledges that he wrote a letter of resignation, it was never intended to go through or be made public.
It was supposed to be held in abeyance until and unless he had any similar problems in the future.
Once word got out about the letter, however, Gerace said, Post had no choice but to accept it.
Gerace said he also went to the next board meeting for the fire department and personally apologized to every member for his behavior at their event.
Earlier this month, Zambito, who was endorsed by the town GOP as Gerace's replacement, was selected by the town board to complete Gerace's term.
Gerace believes the process for selecting Zambito violated parliamentary procedures under Roberts Rules of Order. But Zambito said the town's attorney looked into it and the process was fine.
Besides the fire department event and resignation, the other issue that may dog Gerace in the primary is a question about unpaid taxes.
In June, NYS Taxation and Finance issued a tax warrant against Gerace $571.26.
When asked about it, Gerace said, "I know what that's about. It's taken care of."
The Batavian learned of the tax warrant after an unknown person attached a copy of it to our office door.
Even with all these issues, Gerace said he's confident he's the right man for the job and that voters should check off his name on their ballots.
"I have a proven track record serving the Town of Batavia," Gerace said. "I'm a lifelong resident of this area. It's very near and dear to me and the issues that effect this area effect myself. I don't vote to approve or disapprove motions for myself. I look at how they effect every member of the community."
Gerace added that he also has a near-perfect attendance record for town meetings over the past decade.
Zambito said he would bring experience and professionalism to the position.
He noted that besides being a previous town board member and serving on the Genesee Chamber of Commerce Board, his three years with GCEDC is just the kind of experience the board needs right now with all the planned and anticipated growth in the town.
August 28, 2012 - 1:54pm
#1
I can't speak for the Town of Batavia; I am not a resident of that community. I can, however, speak for Chad Zambito. I have known him since he was a student at Elba Central School. He has always been both a leader and a role model for others- starting with football and student government. His integrity, ethics and sense of fair-play are above reproach. His dedication to community has been exemplified as a newsman for WBTA/WBTF, marketing exec for GCEDC, through the Chamber and personal/civic/parish/family activities. I can't think of anyone better qualified to serve in such a capacity. He continues to hold himself to a higher standard and distinguishes himself from so-called politicians by both listening and employing independent thought. I needn't wish him luck; his reputation precedes him.