September 21, 2014 - 7:58am
Johnny Bench, from Buffalo to Batavia with a Hall of Fame career along the way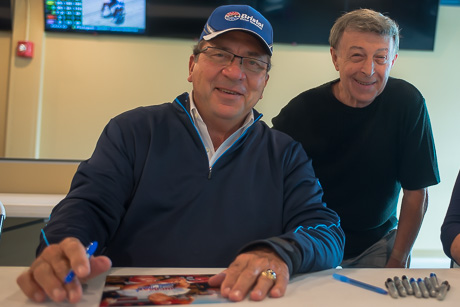 Johnny Bench was just a 19-year-old kid from a town of 600 people in Oklahoma when he arrived in Buffalo 47 years ago.
"I didn't venture much beyond the Kenmore District and North Tonawanda," Bench said during an interview Saturday at Batavia Downs when asked if this was his first visit to Batavia. "I was still trying to figure out who I was and who I was supposed to be."
His 98 games as a Buffalo Bison in 1967 helped answer some of those questions.
"I matured (in Buffalo)," Bench said. "I had older players I played with. They gave me a lot of guidance, worked with me, helped me along. It was a great stepping stone, more importantly for the Dom Zannis, the Jim Duffalos, the Steve Boroses, the Duke Carmels, the Frank Obregons and the Gordy Colemans, and there was Dick Stigman, a pitcher, too, and Rollie Sheldon. It was a maturation process. These guys had pitched before. I kept calling games and learning stuff and doing stuff and you had to get the most out them. I felt like I could paint the picture, but I had to pull it all out of them. That was the secret and the thing I learned the most and enjoyed the most here."
That list of former Bisons -- who, unless you were a Bisons' fan in 1967, you probably never heard of -- were all 30 years old or older. Bench was the youngest player on the team, and one of only six players who hadn't yet turned 23.
But through the years, Buffalo stayed with Johnny Bench. All those names, easily recalled. He turned a question about his legacy into remembrance of a time before he became rookie of the year, an MVP, won two home run crowns, 10 gold gloves and played on two world championship teams.
"We played at the old War Memorial Stadium, but then they had the riots," Bench said. "We had to go over to Niagara Falls and play on the old football field with the temporary snow fence. The yardage lines were still there on the infield."
Arguably -- and some of us would say it's beyond dispute -- Johnny Bench was the greatest catcher in baseball history.
We can talk about his 389 career home runs, his 1,376 RBI, his 3,644 total bases, as well as two home run titles and three RBI titles, but suggest he's best remembered as an offensive catcher and he's quick to rebuff the audacity of dwelling on how he swung a bat.
"The 10 gold gloves didn't hurt," says the man whom base runners feared and pitchers counted on to do a very basic thing time after time: catch the ball.
"That was my main job, getting a win for the pitcher," Bench said. "I took great pride in the fact that I wanted to get that pitcher a win and if we got a win for him, we got a win for the team. Individually, I could throw runners out, I could block the plate, I could get hits, I could call a great game, but calling a great game was the most important."
And it was guys in Buffalo, like Zanni, Duffalo, Obregon, Stigman and Sheldon, who taught him to call a great game.
Bench was in town for a memorabilia show at the Downs. So were Pete Rose, Tony Perez and George Foster, along with other sports stars.
It's worth noting, perhaps, that Bench, Rose, Perez, Foster, and the other stars were signing autographs for a fee. Bench and Rose commanded the highest price, especially on a jersey or bat, but they all got paid.
On the other side of the proverbial coin, of course, is that fact that as players, none of them were enriched the way today's stars are lavished with cash. Bench never earned as much as $500,000 in a season and Rose never made it to the million-dollar mark until his final year as a player-manager with the Reds.
So it's not surprising, perhaps, that these heros of so many youths so many years ago would travel to America's small towns, sit under bright lights on folding chairs at plastic tables and sign their names for fans and speculators for a fee.
While Bench was affable and at times chatty with patrons who came through his line about an hour after Rose had finished, Rose seemed detached from the parade of people pushing baseballs, bats, jerseys, baseball cards and 8x10s onto the table in front of him.
An assistant sternly rebuffed a fan who asked if Rose would pose for a picture. No, she said, but he could kneel in front of the table while somebody snapped a keepsake.
Rose didn't even look at the camera.  
Rather than a smile, Rose wore the look of a man who seems beaten down by a decades-long wrestling match with the Lords of Baseball over his legacy.
In contrast, there sat a youthful, smiling Johnny Bench, with his Hall of Fame ring secure on his left hand, scanning the field and letting nothing go unnoticed.
"That's my jersey," he says to a woman with a camera standing off to the side waiting to snap a picture of a friend who will get an autograph.
As a man tries to get a picture of his friend with Bench as Bench signs a picture, Bench tells him to wait. "I'm not looking up," he says.
When the same photographer seems to move the camera before the shutter snaps, Bench says, "that one's not going to turn out," but the quick-release snapper has moved on without noticing.
Without being asked, he poses for another photographer with a bat at the ready.
When he meets a Batavia Muckdogs season ticket holder, he says as he signs, "I don't even know what a Muckdog's baseball hat looks like. I'd like to see one."
The 66-year-old Johnny Bench smiled and signed and kept chatting even in the face of a line dozens of people long. His massive hands -- hands that make grizzly bears stand up and take notice -- etched a beautiful cursive on whatever he was asked to sign.
Johnny Bench is always the team player.
"Winning an MVP award or rookie of the year, it's a fantastic honor, but there is nothing like the feeling though when I walked into the clubhouse after game seven of the '75 World Series and we were World Champions," Bench said. "That's when I knew what it was all about, because every player was a world champion. Every player, every owner, every sponsor, every equipment manager, and all the fans were world champions. That's when you can really share and realize the importance of what team sport is about."
Bench isn't without some pride over his individual accomplishments. When asked to sign a 1972 San Diego Padres game program with Nate Colbert on the cover, Bench smiled, "Old Nate," he said. "I hit five homers in the last week of the season to beat him for a home run title."
In 1972, Colbert had 38 dingers. Bench had 40.
To enjoy a career like Johnny Bench, that's one in a billion, but just getting the chance to go pro for today's young athlete is nearly impossible.
Bench, who went straight from high school to the Reds instructional league team at age 17 in 1965, said today's young athlete should take advantage of the wealth of college scholarship opportunities.
"When I played, only one in every 500,000 kids who played Little League baseball ever signed a contract," Bench said. "I don't know if they want to go up against the numbers, but the fact that there's so many scholarships out there available, I'll still push education every chance I get. Be a good student, study various things, find something you love and be prepared in case athletics doesn't work out."
If you do want to be an athlete, Bench said, work hard, practice, study the sport, prepare, understand the game. Watch the great ones to figure out what they do and how they do it.
"I think Ozzie Smith is a guy who taught kids how to play shortstop," Bench said. "I taught kids how to catch better."
Which brings us to Johnny Bench's final word of advice: Catch every ball.
"My theory in life is, 'catch every ball.' Somebody says, 'my kid wants to be a catcher, what do I tell him?' and I say, 'catch every ball.' If you learn to catch everything that comes your way, then people say, 'wow, you're a great catcher,' or 'you're a great shortstop,' or 'you're a great first baseman,' or 'you're a great businessman.' If they throw stuff at you and you have the answers, they're going to say, 'this guy really knows what he's doing.' People are going to rely on you and they're going to trust you and more things will come your way."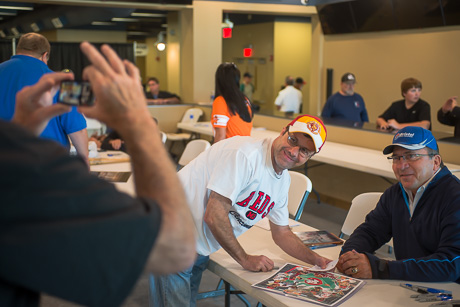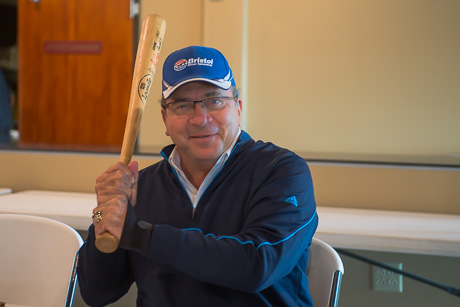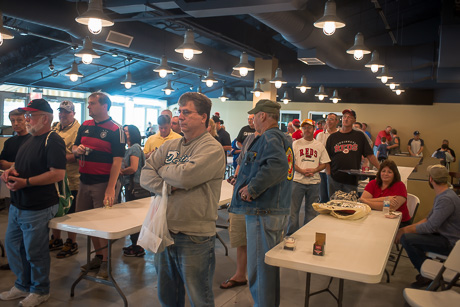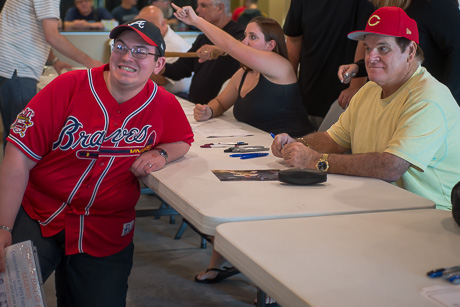 Pete Rose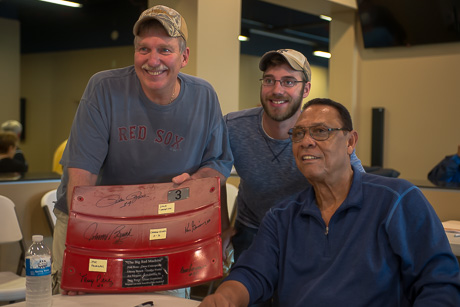 Tony Perez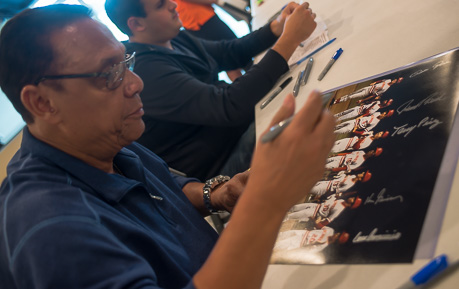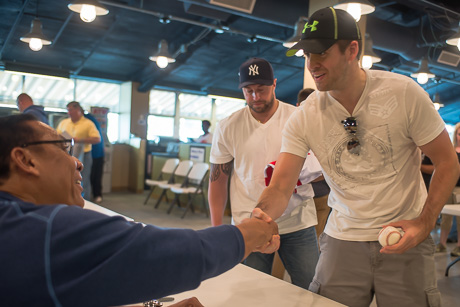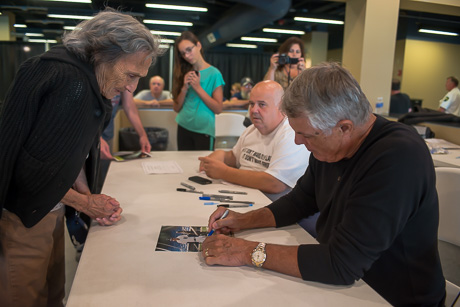 Lou Piniella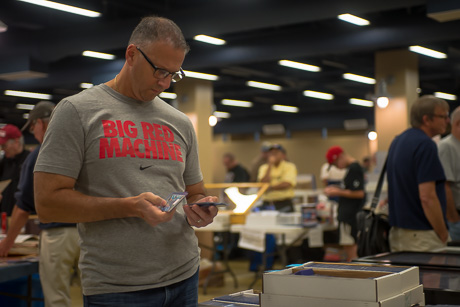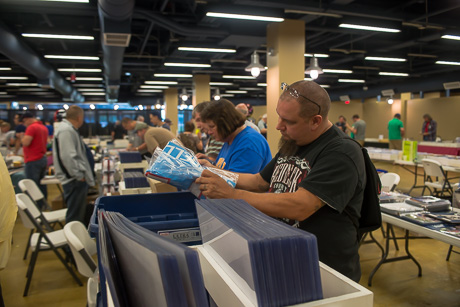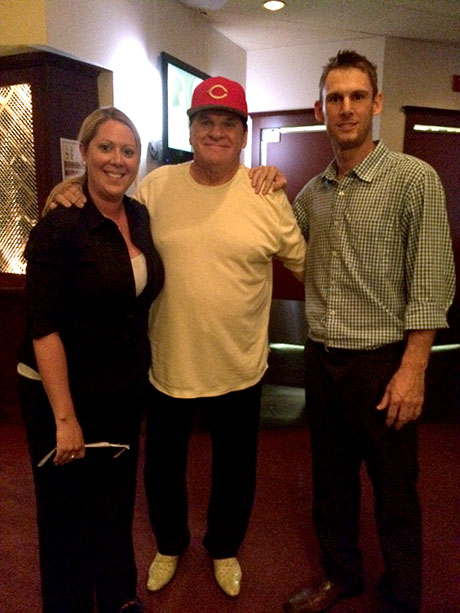 After the show, Pete Rose stopped at Larry's Steakhouse for dinner. Pictured with Sandy Mullen and Brenden Mullen. Photo submitted by Steve Mullen.
September 21, 2014 - 8:25pm
#2
Yep... Nobody more deserving to represent baseball than a person who pledged to uphold the rules, then broke them, repeatedly, and then lied about breaking them, repeatedly, then spent 20 years proclaiming his innocence.... only to finally tell the truth when it became financially beneficial to himself.
If the MLB HOF was simply for those who played well, he'd be in a hundred times over...but it is not.