March 5, 2013 - 2:48pm
Judge tells bookies they will serve in a weekend-work program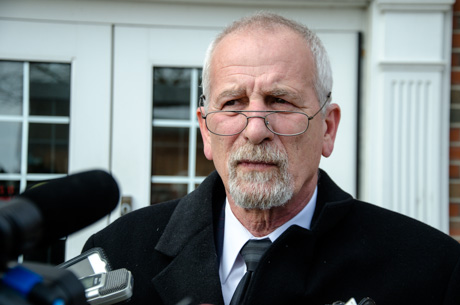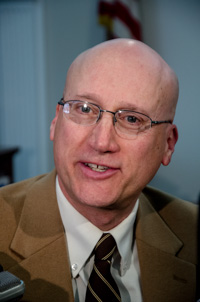 The three men -- including two former City firefighters -- who admitted to a bookmaking charge late last year will work weekends for the community through the Sheriff's Office the next four and a half months, serve three years on probation and pay a $1,000 fine each.
Because the county's work release program doesn't have any openings until March 30, City Court Judge Robert Balbick delayed formal sentencing until March 26.
Greg Phillips, Brian Bordinaro and Lance Engel each appeared in court with their attorneys.
Engel was the first called to the bench and his attorney Joseph LaTona argued that Engel should be given a conditional discharge, meaning no supervised punishment, though he would need to stay out of trouble for a period of time.
All three men entered guilty pleas Dec. 11 to a Class A misdemeanor charge of promoting gambling, 2nd. The maximum sentence available to Balbick on the conviction was up to a year in jail.
LaTona took note that while it's true that his client initially faced felony charges, District Attorney Lawrence Friedman, "a pretty tough guy," agreed to reduce the charge to a misdemeanor for a plea bargain.
"My client had to resign his job of 17 years at the New York state Veterans Hospital," LaTona told Balbick. "In terms of punishment already sustained by my client and his family, that is enough."
Adding later, "He did wrong. He knew he did wrong and he knew it was a crime."
Asked for a statement by Balbick, Engel said, "I take full responsibility for my actions and the embarrassment it caused to members of my family, coworkers and friends."
Friedman (inset photo) acknowledged that even though the charges had been reduced from felonies, including the Class B felony of enterprise corruption, the fact the charges were reduced was already a substantial break.
Friedman supported the Probation Department's recommendation for Engel, which was a period of probation.
"Assuming the defendant is a law-abiding citizen in coming years, then it's not a great hardship for him to be on probation and that's a pretty good disposition for the community in a way I don't feel that a conditional discharge is good for the community."
Balbick said he's thought long and hard about the case, and while he has no doubt Engel is a hard-working family man who made just one "horrible mistake," a sentence of probation wasn't enough.
"It would be a waste of money to put this man in jail, but I do think this man committed a crime and there needs to be accountability to the citizens of this community," Balbick said.
After Engel's appearance, Bordinaro and Phillips approached the bench in turn. Both were asked if they would accept the same sentence as Engel.
The alternative sentence, Balbick said, was 120 days intermittent jail time.
Both Bordinaro and Phillips accepted Balbick's terms. There was no discussion about the sentence during their appearance before Balbick.
Phillips appeared unhappy with Balbick's offer and his attorney, Larry Andolina (top photo), admitted to reporters outside the courthouse that Phillips was indeed displeased with what transpired in court.
"It was a little more than what I expected, but we'll come back to court on the 26th and we'll deal with it then," Andolina said.
Asked about allegations that Phillips and Bordinaro conducted their bookmaking operation while on duty at the City of Batavia Fire Station, Andolino said the allegation was "nonsense."
Asked why the case had been reduced from felony charges, Andolina said, "The investigation wasn't handled appropriately."
Asked if there was a conflict of interest, Andolina said, "yes."
Asked if he would elaborate, he said, "No."
"You have to ask Larry Friedman or the Sheriff?" Andolina said. "They have much more information."
Asked again later if he had evidence to support his allegation that the investigation was mishandled, Andolina said, "Steve Mullen retired, didn't he."
When told that wasn't exactly evidence, Andolina again referred the question to Freidman or Sheriff Gary Maha. 
"You're asking the wrong people," he said and added, "My client still has to get sentenced on the 26h."
Later, Friedman said he wouldn't discuss the matter.
Maha who is out of town, has yet to respond to an e-mail requesting comment.
While Engel expressed remorse in court, neither Phillips nor Bordinaro were given a chance to speak.
Asked if his client, Phillips, was remorseful, Andolina said, "Sure he's remorseful. He lost his job. He lost his pension. He's got a family. This is not a real big community. He knows a lot of people in this community. This is not a happy time."
Andolina said Phillips has been training to become a barber and can't receive a state license unless Balbick signs a "release from disability," a legal document that would allow Phillips to be licensed for such an occupation.
Balbick said he'll take up that matter on March 26.
Asked to comment on Balbick's characterization that the three defendants committed an offense against the community, Friedman said, "Regardless of how you feel about gambling laws, two of the defendants were professional firefighters and were on the public payroll and the evidence is that they were running the gambling operation on duty at least at times. The other defendant was an employee of New York State Veterans nursing home, so I think in that respect it would be considered offenses against the community."
UPDATE: WIVB's George Richert lead this evening's newscast with a story about the sentencing and included information accusing Mullen of placing bets with the bookies. Richert offered no proof, either in the form of documents or sources, to substantiate the claim. (WIVB Web Story)
March 5, 2013 - 6:42pm
#5
Hey Tim, if someone wants cocaine, they should be given a flour sack full of it so that people aren't willing to sell it while supporting a drug-kingpin and his empire of ill-gotten wealth. The war on drugs has killed more people and cost more to society than the actual drugs. I have no sympathy for addicts, but the war on drugs is pathetic.
I've never heard a criminal say they were a victim of their own crime, but I have heard them blame various other aspects of their life on why they commit crimes. Those things are all just excuses and I'm sure most people realize that. The fact that the United States imprisons more people per capita than any other country, it doesn't surprise me when we read about so many innocent people in prison. There are so many innocent people in prisons across the country that there's an organization called the innocence project.
Are you one of those people that thinks everyone in prison is guilty? Do you not read the news over and over again about people wrongfully convicted because DA's dismissed evidence exonerating the accused and because police lied during testimony? REALLY?
http://www.nationmaster.com/graph/cri_pri_per_cap-crime-prisoners-per-ca...