June 17, 2013 - 9:23am
Kermit Arrington, much admired, dedicated to serving his community, has passed
posted by
Howard B. Owens
in
Le Roy
.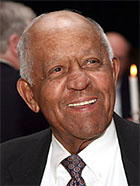 Kermit Arrington, longtime town justice in Le Roy, an athlete, World War II veteran and one of the most respected men in Genesee County, has died.
The lifelong Le Roy resident was 86.
Arrington served as town justice for more than 20 years. For 34 years prior to becoming justice, he worked for the Le Roy Public Works Department, serving as supervisor for 20 years.
A graduate of Le Roy High School, where he was a standout in football, Arrington joined the military after graduating and during World War II served in the 758th 64th Tank Division.
In 1989, he was named Le Royan of the Year.
As an adult, Arrington continued to play sports, starring as the QB for the All Le Roy semi-pro football team. He also umpired and ref'd youth baseball and football.
He was a life member of Excelsior Hook and Ladder and volunteer with the Le Roy Fire Department.
Funeral arrangements are being handled by Falcone Family Funeral & Cremation Service.  Further details pending.
Photo: via LeRoyFootball.com.
June 17, 2013 - 11:02am
#3
I had the honor of meeting Kermit when we first moved to LeRoy in 1981. I grew up from addressing him as Mr. Arrington, to him saying call me Kermit, and me replying yes sir, but very rarely saying Kermit. Watching him and my Mom set his brother Jimmy up for a "Is that Bill Cosby?" would cause me to laugh so hard it could bring tears to my eyes! One of my best and warmest memories would be the day I had the privilege of Kermit being the one who performed my marriage!!! He insisted on hugs not handshakes, I insisted on sending him home with 4x as much food as he wanted! Heaven has received another another amazing soul!! I will love and miss you dearly, Mr. Kermit Arrington!!