May 28, 2013 - 11:15pm
Landlords object to idea of fining property owners for nuisance tenants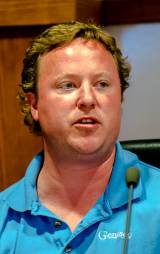 About a dozen local landlords showed up at City Hall on Monday night for a City Council discussion about a possible local law that could mean fines for frequent police calls to local rentals.
Four of the landlords spoke during public comments against the idea, including Richard Siebert, James Pontillo and Thomas Mazerbo (pictured above).
Siebert said Batavia has gained a reputation for being a city that's very unfriendly to landlords, which drives down the value of rental properties and hurts the ability of the city to raise assessments.
He also said the subsidized housing complexes run by the city attracts all the good tenants, making it harder for landlords to attract the better tenants.
He also complained about police inaction when complaints are lodged about some residents.
"Let's talk about Lewis Place," Siebert said. "I have an apartment building down there and I've called city police when tenants have told me about drug deals and fights going on and they tell me, 'if you didn't see it personally, we can't do anything about it.' The city can clean it up. Put some undercover agents down there. Go in and clean it up."
Mazerbo said that it's very hard to get bad tenants evicted and if you succeed, they often trash the place and then city code officers give a landlord only 48 hours to clean things up. He said landlords should be given 10 to 30 days in those circumstances.
One version of the law under discussion was passed in the Town of Niagara and Mazerbo said, "I don't care about the Town of Niagara. That's over there. Something has got to be done here."
James Pontillo said the city is once again trying to turn the landlord into the bad guy.
"We're the ones investing in Batavia," Pontillo said. "We're the ones taking down a run down property and investing in it. I don't like being called a slumlord. I find it offensive. What we're doing with our money is -- rather than investing in gold or silver, we're investing in Batavia."
One of Pontillo's frustrations is that the police won't arrest former tenants for criminal mischief when they purposefully cause $5,000 in damage to a property once they know they're evicted.
Councilman Kris Doeringer took issue with the notion that landlords aren't responsible for the conduct of their tenants.
"You're the ones who rent to them," Doeringer said. "This is your business. You rent to them. Nobody made you. Today, nobody holds you accountable. That's not to say I'm unsympathetic to the investment you make in the community ... but there is a responsibility you have there somewhere and to put it all back on the city is not correct."
During his remarks, local residential property owners Jeremy Yasses and Terry Platt left the room, though Platt returned.
Brooks Hawley (inset photo) said his concern about this issue began while he was campaigning, walking precincts. The number one issue brought up by residents, Hawley said, was misbehaving tenants.
City Manager Jason Molino, Hawley said, asked that addressing the issue be held off until after the budget was approved. Once it was, Hawley, Molino and Pier Cipollone met to discuss options.
In researching options, Molino found laws in Cheektowaga and Niagara that hold landlords accountable for excessive complaints about the conduct of tenants.
According to Hawley, the laws in those other jurisdictions are meant as discussion starters about how to address the problem in Batavia. He said he's looking for something that holds tenants accountable and puts some responsibility on landlords for how their properties effect their neighborhoods.
There was no action taken by the council Monday, and though Cipollone suggested forming a committee that would include council members and landlords to study the issue, no firm plan was put in place.
Molino said it's a very complex issue and no single law is going to necessarily bring about neighborhood revitalization.
"It comes back to the root of the issue," Molino said. "If the tenants don't care about the neighborhood, you can't make them care. If the neighbors want to have their community back, they will have to take their neighborhoods back. You can't use code enforcement and you can't use police enforcement to force people to take back their neighborhoods."
Councilman John Canale called the idea of fining landlords for tenant behavior "absurd."
"I'll never support any talk like that," Canale said. "We talking about asking landlords to become the police and we already have a police department."
May 29, 2013 - 12:27am
#3
Phil's got it.... as a prior landlord I rented to a corrections officer without any history of negative behavior or financial difficulty. Everything went great for about a year. The CO went on disability. Soon the rent was late, then later, then not at all. The eviction process was ridiculous. By the time they left, there had been more than one arrest for drugs and I was out 4 months rent (3 from them and 1 for the time it took me to clean and repair the mess they left). Landlords are not psychics. How would I have ever known there was a risk from this individual? I took a financial beating on that property. I can't imagine being held responsible for tenant actions I could have never foreseen. I find it ironic that very property is listed in the "law and order" section today. I wonder how many of the people that are in favor of this type of law have ever been a landlord.