March 24, 2015 - 5:58pm
Law and Order: Central Avenue resident accused of using gun in robbery and assault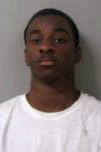 Tyshon
Taylo
Tyshon L. Taylor, 18, of Central Avenue, is charged with assault, 1st, robbery, 1st, unlawful possession of marijuana, and menacing, 2nd. Taylor allegedly pointed a handgun at another person while demanding property at a location on Central Avenue, Batavia, at 8:45 p.m., Friday. Taylor allegedly struck the individual in the head with the handgun and then punched the person. Eventually, Taylor took the property from the person. He allegedly possessed marijuana when arrested. A 16-year-old, whose name was withheld by police, was also arrested and charged with assault, 1st, and robbery, 1st.
Madalyn R. Muntz, 29 of Le Roy, is charged with grand larceny, 4th. Muntz, a former Walmart employee, is accused of stealing more than $1,500 in cash from November through February.
Nicole A. Mickey, 25, of Colonial Boulevard, Batavia, is charged with DWI and driving with a BAC of .08 or greater. Mickey was arrested following a complaint of a disturbance at her residence at 11:48 p.m., March 16. Mickey allegedly drove from that location to another location while intoxicated.
Erin Kathleen Hinrich, 34, of Bank Street, Batavia, was arrested on a warrant for alleged possession of a hypodermic instrument. Hinrich turned herself in to Batavia PD.
Richard J. Stack, 23, of Thomas Avenue, Batavia, is charged with harassment, 2nd. Stack is accused of throwing items at a woman and flipping her out of a chair during an argument. He was jailed on $750 bail.
Deborah E. Lamartina, 34, of Linnet Street, Rochester, is charged with two counts of criminal possession of a controlled substance, 7th, and criminal use of drug paraphernalia, 2nd. Lamartina was allegedly found in possession of heroin and cocaine while already in custody on unrelated charges. She was jailed without bail.
March 25, 2015 - 2:54pm
#4
another transplant here to reek havoc in our city . Why is he here ? no job , no future , what brings him to Batavia ? If you can answer the question , then please pass the info on to police . There is something that is drawing thugs to Batavia . Is it the ease of benefits? The never ending handouts from good people turning into enablers ? The ease of ripping off trust worth local citizens ?
WHO KNOWS , BUT THERE IS A REASON FOR THE UPTICK OF CRIMES COMMITED BY TRANSPLANTS OF OUR NEIGHBORING CITYS .
WE COULD START WEEDING THEM OUT BY PULLING OVER CARS THAT DISOBEY NOISE ORDINACES . (ONE OUT OF TEN TIMES YOU WILL FIND DRUGS IN THE BASS BOOMING CARS) MOST LIKLY NOT REGISTERD TO THE DRIVER .