February 10, 2014 - 1:26pm
Law and Order: Woman accused of mistreating pit bull
Nina M.E. Kelso, 29, of Hutchins Street, Batavia, is charged with torturing or injuring an animal/failure to provide sustenance and owning/haboring an unlicensed dog. Batavia PD responded to Kelso's residence at 6:08 p.m., Feb. 4, to investigate a report of a maltreated/malnourished dog. Officers allegedly found a pit bull identified as Kelso's dog that was malnourished and weak. The dog was reportedly unable to stand or move on its own. The dog was also unlicensed. The dog was taken to Batavia State Street Animal Hospital and continues to receive treatment and care.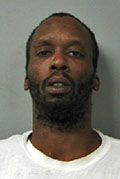 Johnnie Waston
Johnnie M. Waston, 30, unknown address, Rochester, is charged with criminal impersonation, 2nd, and criminal trespass, 2nd. Waston allegedly entered the apartment on State Street of somebody he did not know at 1:54 p.m., Sunday, and remained in the residence unlawfully. Waston allegedly provided a fake name to police and was later recognized and identified by jail personnel. Waston was found to have an active bench warrant for his arrest out of the city court in Rochester.
Scott R. Merrill, 45, of Darien Center, is charged with DWI. A state trooper reportedly observed a vehicle stop at the Colby Road railroad crossing, which at the time had flashing lights and the gate arms down, indicating an approaching train. The vehicle allegedly proceeded around the gates and narrowly avoided being hit by an Amtrak train. The vehicle was stopped and Merrill was taken into custody following further investigation.
Rodney Lowell McKenzie, 49, of Weaver Street, Buffalo, is charged with inhalation of toxic vapors. McKenzie was reported found at 11:51 a.m., Feb. 5, sitting in his vehicle allegedly huffing keyboard cleaner. He was also charged with petit larceny for allegedly shoplifting from Walmart.
Danny Jay Torok Jr., 26, of Dodgeson Road, Alexander, is charged with assault, 2nd. Torok allegedly started a fight with another inmate while incarcerated at the Genesee County Jail.
Mark Andrew Kempie Jr., 45, of West Main Street Road, Batavia, is charged with petit larceny. Kempie allegedly stole merchandise valued at $13.67 from Kmart.
Gary Edwin Gerevics, 55, of Indian Falls Road, Corfu, is charged with criminal possession of a weapon, 3rd, and criminal contempt, 2nd. Gerevics was allegedly found in possession of firearms in violation of a court order of protection. He was jailed on $3,000 bail.
Jason A. Klinkbeil, 25, of 50 South St., Le Roy, was arrested on a bench warrant. Klinkbeil turned himself in on a warrant for alleged failure to comply with drug court. He was jailed on $100,000 bail.
Nathan Paul Crawford,18, of Hutchins Street, Batavia, is charged with public lewdness. Crawford allegedly exposed his genitals to another person while on East Main Street, Batavia, at 5:46 p.m., Feb. 5.
Suzanne M. Corona, 44, of Batavia, is charged with petit larceny. Corona is accused of stealing from a location Veterans Memorial Drive, Batavia, at 8:38 p.m., Saturday. She was arrested by State Police. No further details released.
Jacob J. Lentz, 24, of Aurora, Iowa, is charged with DWI and driving with a BAC of .08 or greater. Lentz was stopped at 10:50 p.m., Saturday, on Albion Road in Oakfield by State Police.
Deborah L. Smith, 55, of Spencerport, is charged with DWI, refusal to take breath test and drinking alcohol in a motor vehicle while on highway. Smith was stopped by State Police at 11:25 p.m., Friday, on Route 63, Town of Batavia.
February 10, 2014 - 2:01pm
#2
Suzanne M. Corona ...name sounds familiar ....maybe doing "take out" at a buffet ? or was it loving on a park bench?