August 19, 2013 - 11:59pm
Le Roy meeting aimed at educating local property owners about historic designations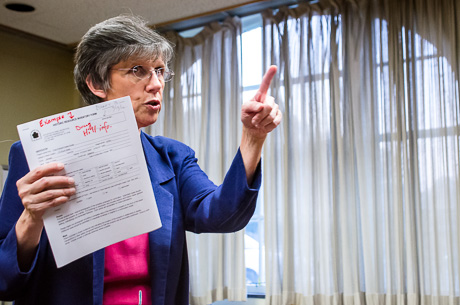 A group of property owners on Main Street in Le Roy have expressed an increased interest in forming a historic district, so tonight, Cynthia Howk, of the WNY Landmark Society, gave an informational presentation at the village hall.
Park of Howk's talk was to clear up myths about historical preservation designations.
The biggest myth is that getting a property on the state or national register, or a whole district, gives the government some level of control over the property.
That simply isn't true.
"I could take all of you on a bus tour right now and show you dozens of buildings that have been torn down that were on the national register," Howk said.
If your property is on the national register you can paint it whatever color you like, you can put vinyl siding on it, you can let it rot away, you can convert to a fast food restaurant -- all of the things you can do with a property that isn't registered you can do with one that is, so long as it exists with current code enforcement and zoning regulations.
Asked if there were any cons and Howk said, "I don't know of any cons. You can tear your house down if you want. You can still put siding on it. You can have the worst taste in the world and paint it red, green, purple and black. You can cut all the trees down. All of that, so long as it is in the village code."
So what's the advantage?
Tax credits when you want to repair or restore. Buildings that have received a national registration designation or are within a district are eligible for credits on contracted labor (not DYI labor) and materials.
So how is a building or district designated?
For a building, whether commercial or residential, there are pages and pages of applications to complete. The application is reviewed by a department of the state's parks service and if granted, the application is forwarded to the national park service for designation.
The process for a whole district is similar, except that 51 percent of the property owners in the proposed district must support the application and the paperwork isn't quite as detailed.
Any area or building in Genesee County with potentially historic buildings has a good shot at such a designation because the average income in all parts of Genesee County is below state average.
The main criteria is that the buildings look much like they did when first constructed and that they have some local historical significance.
"This isn't some Martha Stewart beauty contest for rich people's houses," Howk said. "Houses that go onto the national register go on because they're important to the local community."
It's also important to recognize, Howk said, that there is an important distinction between a building on the national register and a national landmark. A landmark -- such as the Eastman Mansion or the Susan B. Anthony House -- are historically important to the entire nation, not just a local community.
Nobody is talking about landmark status for anything in Le Roy.
There is a definite benefit to local communities that create historic districts -- they attract tourists.
"There's prestige with a historic district," Howk said. "There's such a thing as heritage tourism. Yes, there are nuts like me, and there are lots of us, who like to go to places and look at pretty buildings."
Studies show, she said, that heritage tourists stay longer and spend more money in the communities they visit, and once you have a designation, tourism magazines are more likely to write about your community.
Village Trustee Jennifer Keys attended the meeting and said she thinks that's an important point to consider.
"Any time we can get people to come into Le Roy and spend money and see how beautiful it is, that's a win," Keys said. "That's what we want to do."
According to Keys, about 50 percent of the business district property owners have already expressed interest in a historic district designation, and with that interest, a few folks on East Main Street are talking about forming an East Main district, and there is some interest on Church Street. West Main is also a potential district.
While designated structures are eligible for tax credits for repairs, and you can do what you want with your property, modifications that don't fall within preservation guidelines are not eligible for tax credit. 
About 50 village residents attended the meeting.
August 20, 2013 - 10:56am
#1
It appears, at least to me, that Ms. Howk speaks with forked-tongue.
According to thebatavian article, the way I read it, as long as you follow local codes, you can do anything you want to your property.
But, from the landmark society's website, http://landmarksociety.org/resources/historic-designation/benefits-and-r... that would appear to be untrue.
In the very 1st paragraph from that web address, it states, "Because all changes to the exterior of each property in a district must receive approval from the city, your neighbor can't build that garish addition right next to your Tudor Revival home. While an addition can be built (assuming all other zoning laws are met), the city ensures that it fits into the aesthetic context of the district.".
So, if one wished to convert their tudor home to a fast-food establishment, the restaurant would have to "fit into the aesthetic context of the district".
How would that even be possible? Wouldn't a restaurant sign, alone, undo the aesthetic context?
August 20, 2013 - 2:29pm
#2
You're referencing an article about Rochester's Preservation Ordinance. Last I checked, Le Roy is not in Rochester.
Here's information on Rochester's ordinance.
http://www.cityofrochester.gov/historicpreservation/
Howk did not at all address the Rochester code because, again, Le Roy is not Rochester.
August 20, 2013 - 10:03pm
#3
There are no rules upheld by entities other than local code as to what one does or does not do with their buildings that are on the National Registry. The state doesn't say what to do, the feds don't say what to do, and currently, Le Roy does not have any preservation laws, so what Ms. Howk said was accurate in reference to her audience. The only rules that ever apply are if you are using public funds (IE: grants or tax credits) AND local code.