November 16, 2011 - 4:43pm
Likely buyer for 'Project Wave' plant is PepsiCo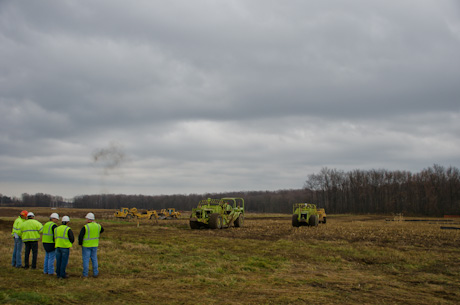 A pair of top executives from the company behind a development in the Genesee Valley Agri-Business Park in Batavia were on hand this morning to see the first of several tons of dirt get moved from one spot to another.
Even without a purchase agreement to buy the 81-acre parcel from GCEDC, the company is apparently eager to get this project under way immediately to meet a deadline for product production of early 2013.
The company wants site grading completed before the worst of winter hits.
While the executives did not want to be identified in publication, sources in the dairy industry have fingered PepsiCo as the company likely behind "Project Wave."
It makes sense.
According to a story in the Oct. 14 edition of the Wall Street Journal, Pepsi is embarking on a partnership with a yogurt company based in Germany in an effort to enter the fast-growing yogurt market in the United States.
This would be Pepsi's first foray into the U.S. dairy business, but fits an overall strategy laid out in the business press for Pepsi to grow market share in nutritional foods as the market for soft drinks declines.
The Jacksonville, Fla.-based firm that has led Project Wave through the regulatory process and start of construction is Haskell Architects and Engineers. On its website, Haskell lists PepsiCo as among its clients.
While the executives at the construction site this morning asked that their names not be published, an internet search of one of the executive's names confirmed he is an employee of PepsiCo.
The executive made it clear, however, that Batavia is only one site among four under consideration and his employer hasn't made a final decision on which site it will construct its plant.
It is, however, the site that is being bulldozed. And the company seems eager, and has big plans, to enter the U.S. yogurt market by 2013.
According to Project Wave specs, the plant will eventually employ 600 people working three different shifts on 16 production lines.
Assuming it opens on schedule in 2013, the plant will initially employ 180 people working on three production lines.
Both executives praised GCEDC and the Town of Batavia for having this shovel ready site available.
"There are only three of our four sites in the northeast that would be ready this quickly for production," one executive said. "These shovel-ready projects are key to attracting big companies."
Mike Wheeler, the project's architect, was also on site this morning and reiterated the importance of having all of the regulatory approvals in place, along with the infrastructure necessary for the project to get started right away.
"My hats off to these guys," Wheeler said. "They put the community in the best possible position for this project."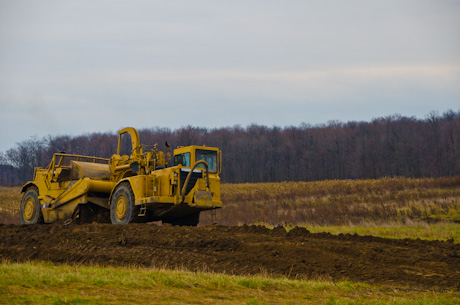 November 17, 2011 - 10:18am
#8
Who is paying for the bulldozing and site preparation if the company hasn't even decided to come here yet? Will this come out of Steve Hyde's $50,000 bonus for this year? Or will it come out of Genesee County tax dollars? Use our tax dollars wisely to support local industries and businesses. Give the local people, who provide the most economic stimulus according to the experts, the tax breaks and subsidies to expand and remain in upstate New York. Use the tax dollars the state takes from us to reclaim the abandoned industrial parks in the Buffalo and Rochester metropolitan areas instead of leaving them blighted--and destroying more of our farmland and wildlife habitat. (Yes, I chose the emotive word "destroying" on purpose because that is what happens to "developed" farmland and wildlife habitat. The transportation, electricity, gas lines, water lines, sewage disposal facilities and, even buildings, already exist in those areas. That would be a good way to "reduce, reuse, and recycle" our state's resources. (FYI--New York State requires that we teach our school children to reduce, reuse and recycle!)