April 27, 2012 - 6:29pm
Local congressional candidate reportedly has previously fallen behind on property taxes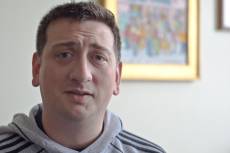 David Bellavia has fallen behind on his property taxes and city fees in recent years, the Buffalo News reported today, and while he has paid penalties for being late, he's up-to-date on all of his payments currently.
The Batavia resident is running for the GOP nomination in the 27th Congressional District.
According to the Buffalo News, Bellavia has paid more than $700 in penalties for being late on school property taxes and has been assessed more than $100 in penalties for being late with water and sewer payments.
Bellavia told the News he's had his struggles with finances just like any average Western New York resident.
"I'm not a millionaire; I'm not a country club Republican," he said. "Yes, my family on occasion has been late paying bills, but they are paid in full, including fees and interest."
The Iraq War veteran earns money from book sales and according to the News recently sold a movie script to Hollywood.
Bellavia, who backed Tea Party candidate Jack Davis in the May 2011 special election won by Kathy Hochul, is running against former Erie County administrator Chris Collins. Jane Corwin, the GOP nominee who lost the special election in the heavily Republican district was reportedly tightly aligned with Collins and Collins is reportedly working now with the Corwin campaign team.
Photo: File photo.
April 28, 2012 - 8:52am
#9
What next? A spokesman from Cablevision gonna say he got a late fee on his cable bill and give out his movie rental list? The grocery store clerk gonna sell a list of his grocery items? The people who gave out the personal info for his water bill and school taxes should be fired. I am sure it is public accessible info, but lets see a freedom of information form filed to support it wasn't an employee misusing information for political purposes. I am not a supporter of this candidate and have never met him, but this is a bit ridiculous. (Not to say I will not support him)