May 13, 2013 - 11:50pm
Local racer has two quads stolen just as season is about to start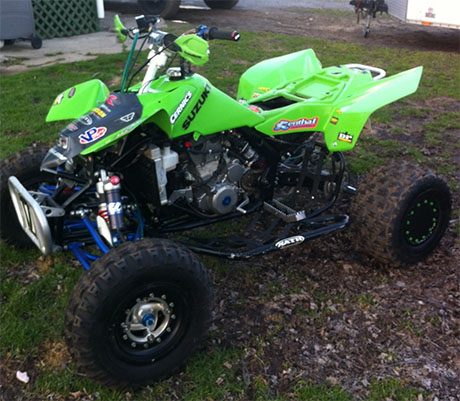 Two four-wheel ATVs have been stolen from a residence in East Pembroke and the owner is offering a cash reward for their return.
They belong to Parker Dean, who has been racing motocross and flat track on the local and national circuit for eight years. The theft comes at a particularly bad time -- the start of the season.
One is a blue 2001 Yamaha Raptor 660 with ITP Holeshot  front tires and ITP mud lite rear tires, DG front bumper, TCS front shocks with black PEP shock covers and carbon fiber hand guards.
The other ATV is green Suzuki Ltr 450 with a custom black and green Quadtech seat, gunmetal hinson clutch cover, Quadtech carbon fiber shock guards, 127 number plate.
The reward will be paid upon return of the quads and "conviction of the scum who sold them," according to the flyer we were sent.
Call the Sheriff's Office at (585) 343-5000 with any information that may assist in the investigation.