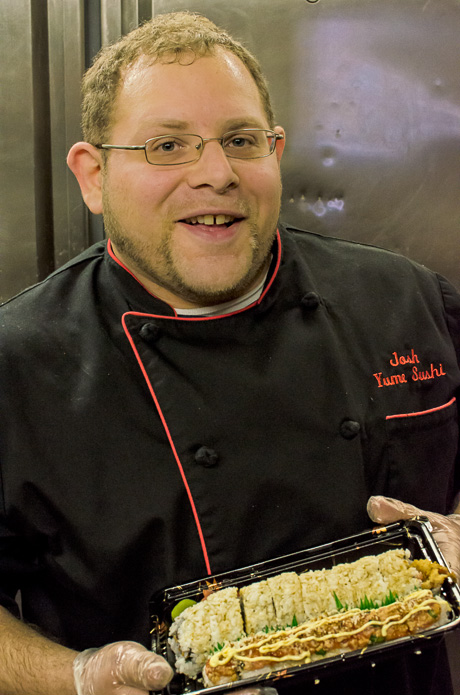 You could call it a springboard for spring rolls.
Paul Berardini is providing his cousin, Josh Gaylord, kitchen space at Big Pauly's Pizza, to launch his sushi business, Yume Sushi.
Gaylord had tried to secure financing to open a restaurant at the former Delavan's location on Evans Street, but that fell through, so Berardini stepped in to provide a launching pad for the aspiring entrepreneur and sushi chef.
"I can't thank him enough because obviously I tried doing it myself and it wasn't in the books for right now," Gaylord said. "I think starting out small is the best idea."
Space is cramped and the production needs of the pizza and wing cooks in Pauly's sometimes means Gaylord gets shifted from one table to another, but he has a place to start (rent free), his own phone line, a business name and checking account. He's in business.
And it's already quite a business. With more than 500 followers on Facebook, Gaylord is already fielding about as many orders as he can handle by himself.
"It's best to order ahead," Gaylord said.
Gaylord and a buddy started going to sushi restaurants in Buffalo and Rochester about eight years ago and decided they would learn to make sushi themselves with the hope of eventually opening a restaurant in Batavia.
"We just thought Batavia needed something like this," Gaylord said, but admits he wasn't very good at creating sushi dishes at first.
His friend eventually fell away from making sushi and moved to Flordia to escape New York's winters, but Gaylord stayed and kept learning.
He's entirely self-taught, but with recent special dinners at Sweet Ecstasy Bakery and just making sushi for friends in Batavia, he's developed quite a following. He hopes with the help of Pauly he can get his business rolling and eventually secure enough financing to open his own location.
"It's a passion of mine," Gaylord said. "I really like doing it. I like introducing new foods to Batavia. A lot of people think sushi is just raw fish. It's nothing to do with raw fish. Sushi means rice that's been vinegared with some sort of meat. It can be steak or chicken or even a vegetible."
Yume Sushi is open from lunchtime through 8 p.m., Tuesday through Saturday. Order ahead by calling (585) 297-9656.