November 24, 2011 - 8:12pm
Main St. Pizza Company NFL Challenge, Week 12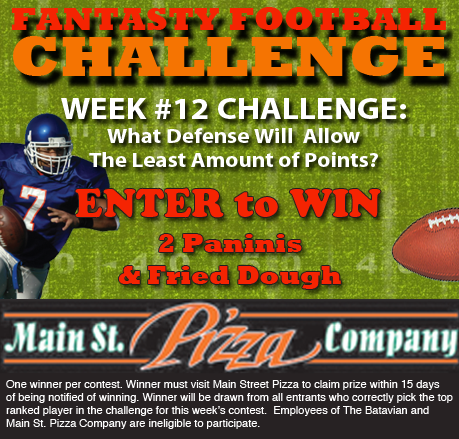 Both Ryan Fitzpatrick and Matt Hasselback rushed for 17 yards on Sunday, so the Week 11 contest winner was randomly drawn from among the 25 people who picked either QB as the quarterbacks with the most rushing yards for the week.
The winner for Week 11 is Bob Bartz, who picked Fitzpatrick. Bob wins one small cheese pizza, one topping, one order of wings and a two-liter bottle of soda pop.   He has one week to pick up his prize.
November 25, 2011 - 8:49am
#1
November 25, 2011 - 9:29am
#2
Leaving a comment doesn't enter you in the contest.
November 25, 2011 - 10:37am
#3
I know howard but, I am using a work computer which does allow me to fill in an entry. Besides I it for fun.