October 27, 2011 - 3:03pm
Main St. Pizza NFL Challenge, Week 8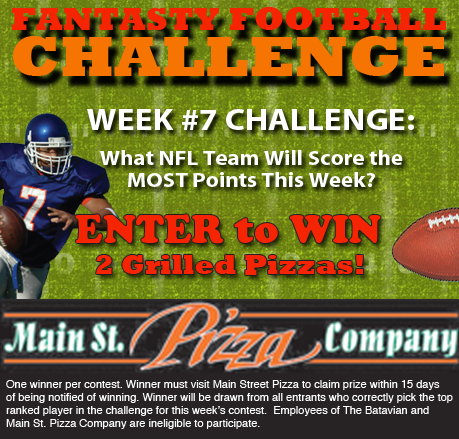 Congratulations to Robert Tretter, winner of the Main St. Pizza Company NFL Challenge Week 7 contest. Tretter wins one large cheese pizza with one topping. Tretter correctly picked Arian Foster of Houston as the back to gain the most rushing and receiving yards in Week 7. Tretter was selected in a random drawing from among the 12 people who picked Foster.
Winners of the NFL Challenge have one week to claim their prizes.
October 27, 2011 - 3:57pm
#1
I picked Cam Newton to throw the most picks in week six he threw 3 No one threw more than him, why haven't you said anything about that? and where is my prize?