November 6, 2012 - 8:05am
Main St. Pizza owner helping promote book of his idol, former pro wrestler 'Doctor X'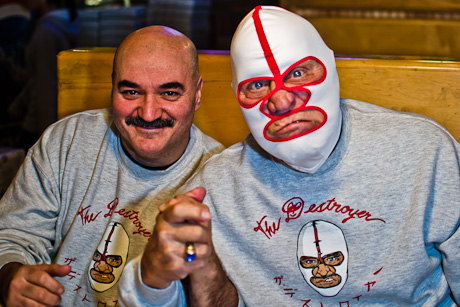 What a life Dick Beyer has led, from a standout in high school football and a football scholarship with Syracuse University, to a master's degree in education and a professional wrestling career that took him and his family all over the world.
One of Beyer's wrestling matches in Japan was televised worldwide and viewed by 70 million people.
"I didn't realize how many that was until somebody told me only 50 million people watch the Super Bowl," Beyer said.
One of Beyer's biggest fans was Vic Marchese, owner of Main St. Pizza Company in Downtown Batavia.
Growing up, Marchese loved professional wrestling.
"I especially liked any wrestler that wore a mask," Marchese said.
Vic became a big fan of Beyer's later career character, Doctor X. Marchese was a member of the Doctor X Fan Club and he said he still has his membership card at home.
"I just always liked Doctor X," Marchese said. "I just never knew he lived 20 miles down the road from me all my life."
Marchese and Beyer met in a local T-shirt shop several years ago and became fast friends.
If Beyer is driving past Batavia, he always stops in to see Vic, usually coming home from a football game in Syracuse.
"I just love his pizza," Beyer said.
Beyer, 82, is finally telling his life story in a new book, "Masked Decisions," and will be at Main St. Pizza from 2 to 5 p.m., Saturday, Nov. 17, for a book signing. Marchese is offering a free pizza with a book purchase.
"It runs through my whole life, honestly," Beyer said. "I don't pull any punches. I don't say a lot about individual wrestlers, who was won this or who was better. I talk about the humor of the game and about being at the right place at the right time."
Beyer attended a vocational school in Buffalo, and after his fourth year had to go to a fifth year of high school for math, history and English. He was offered a football scholarship to Syracuse and while starting for the Orangemen he was recruited onto the wrestling team.
According to Beyer, his roommate at his fraternity house where he lived was the heavyweight on the wrestling team.
One evening, Beyer was at the house playing pinochle when the wrestingly team came back.
"I asked Howie, 'How'd Bill Sky do today?' " Beyer said.
"He blew out his knee."
"I said, 'Who's going to be the heavyweight?' "
"You," said Beyer with deep laugh.
Beyer is a big man, barrel chested, pug nosed, with beefy hands. His baritone voice is as big as his physique and the breadth of his career.
By his junior year in college, he was being recruited by professional wrestling promoter Ed Don George.
The former Eagle Scout started his pro career as Dick Beyer and wrestled mainly in Upstate New York, finishing out an eight-year Army Reserve commitment and working on the staff of the Syracuse football team, including their national championship year of 1959.
His first year as a pro, 1954-55, a wrestling magazine named him Rookie of the Year.
His travels through his early career took him through Chicago, Ohio, Tennessee and Hawaii.
Then in 1962 he got a call from Los Angeles promoter Jules Strongbow
Beyer made his way to Los Angeles where Strongbow told him the next night he would be wrestling in San Diego, wearing a mask, not as Dick Beyer but as "The Destroyer."
Reluctantly, Beyer did it. He said the moth-eaten mask wasn't very comfortable.
"I wrestled," Beyer said. "I came in. I pulled the mask off. I told the manager, I said, 'Artie, tell Strongbow that was the first and last match for 'The Destroyer.' "
Another wrestler convinced Beyer there was money in wearing a mask and loaned Beyer one of his masks, so Beyer gave it a try.
It fit better and was more comfortable. The mask was made from a lady's girdle, so the next day, Beyer and his wife, Wilma, went to Woolworth's and bought ladies' girdles and she turned them into masks for "The Destroyer."
A few years later, Beyer was offered a six-year wrestling contract in Japan, which he accepted.
He was big in Japan (and he learned to speak fluent Japanese). His matches were televised internationally, including the one that was viewed by 70 million people.
Beyer still conducts an annual wrestling camp in Japan.
In the mid-1980s, Beyer retired from professional wrestling. He became an elementary school teacher in Akron and coached high school football and swimming.
Marchese said it's been one of the thrills of his life meeting and getting to know Dick Beyer. They've become good friends.
He's invited Beyer to his wedding.
"How many people can say they had their idol at their wedding?" Marchese said.
November 6, 2012 - 9:14am
#1
I already read this book and it was excellent. Too bad I didn't wait. I didn't realize that I could get free pizza out of the deal.