August 2, 2012 - 10:08pm
Man ID'd as store clerk after DEA raid appears as owner of 420 store in documents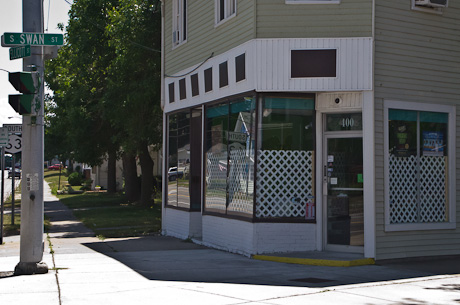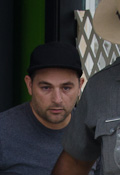 Joshua Denise, the 37-year-old Batavia resident who was identified in a U.S. Attorney press release and in a federal search warrant affidavit as an employee of The 420 Emporium appears to be at least co-owner the the store at 400 Ellicott St., according to documents obtained by The Batavian.
While working on a story Monday about how other locations of The 420 Emporium have apparently reopened while the Batavia store remains closed, The Batavian stopped by the location to take pictures of the store and check for signs of activity.
The mail had apparently not been picked up in a couple of days and clearly visible in the mailbox was an envelope with a return address for New York Taxation and Finance addressed Joshua Denise c/o The 420 Store, LLC.
The 420 Store, LLC was filed with the Secretary of State on Feb. 16, 2012.
This is a separate incorporation from The 420 Emporium, Inc., filed Aug. 29, 2011.
The Batavian then issued a FOIL request with the Batavia Fire Department for any fire inspection documents.
Denise signed the inspection notice as "owner/occupant" of the business location.
A FOIL request was also sent to the Genesee County Department of Health for any inspection records. 
Denise is listed on those documents as "co-owner" of "420 Emporium," 400 Ellicott St.
Federal authorities, assisted by local law enforcement, raided the store July 26 as part of a larger operation hitting all five 420 Emporium locations and arrested Denise along with Michelle Condidorio, 30, of Le Roy.
Both Denise and Condidorio were arraigned in federal court that day and charged with possession with intent to distribute, and distribution of, a controlled substance analog.
They are suspected of selling packages of a product that contained alpha-PVP, a chemical that is an analog to MDPV. MDPV became a controlled substance on July 9. The substances are believed to provide an euphoric type high and be addictive. Side effects seem to include paranoia, hallucinations and agitation.
While Denise and Condidorio were not held by authorities following arraignment, the store has not reopened.
Meanwhile, the 420 stores in Brockport, Fulton and Henrietta have, according to sources, reopened.
The Brockport store has advertised job openings at its location on its Facebook page.
Charles Darwin Fitzgerald is listed in DEA documents as well as the incorporation papers as the owner of The 420 Emporium.  His live-in girlfriend, Amber Snover, has proclaimed herself on Facebook as the owner of the stores in Brockport, Rochester, Henrietta and Fulton.
The feds also searched the Fitzgerald/Snover home in Greece, and reportedly recovered a large bag of cash, but neither subject has been charged with a crime so far.
In an inspection of the 420 store in Batavia on May 31, Denise allegedly told a county health worker that his store didn't sell synthetic cannabinoids.
The health technician reported the following items were on sale: herbal incense brands of "Kryptonite" as well as items labeled "Rain of Fire," "Fuzzy Wuzzy," and "Kush 10x."
Kryptonite herbal incense can be found for sale on what appear to be online head shops and there is at least one YouTube video of a person allegedly smoking a substance of the same name.
"Rain of Fire," "Fuzzy Wuzzy," and "Kush 10x" are all reported on at least one Web site as a form of alleged synthetic cannabinoid.
The health technician issued to Denise a notice that day that the state had banned synthetic cannabinoids of all types.
On July 2, the County Health Department also cited the 420 Store for selling tobacco products that were not either behind the counter with only employee access or in a locked case.
Denise didn't contest the citation and paid a $350 fine on July 16.
The business was also found allegedly to be in violation of city fire codes on July 16, such as accumulation of trash in the back room, a hole above the back door that needed to be properly repaired, lack of properly located fire extinguishers, lack of outlet covers and no exit sign above the rear exit.
There's no indication whether these alleged violations were resolved or are still pending.
August 3, 2012 - 10:59am
#1
Aside from the trash, those violations sound like the property owners responsibility. That of course depends on the lease but, I wouldn't sign on that has me in charge of repairs unless I caused the issue.