November 30, 2012 - 11:17pm
Man involved in standoff in State Street rooming house held on three charges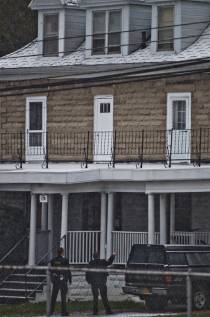 A State Street resident involved in a brief standoff with police after he allegedly fired a shot from a .357 magnum in his rooming house is facing three criminal charges.
Dennis G. Wolfe, 51, of 218 State St., Batavia, is being held without bail on charges of criminal possession of a weapon, 3rd, reckless endangerment, 1st, and menacing a police officer.
Officers responded to 218 State St. at 3:52 p.m. after receiving two 9-1-1 calls from neighboring tenants who said they heard a single gunshot from inside the building.
Within minutes, Wolfe was located in room #10 and the responding officer radioed for backup, reporting that Wolfe was holding a gun.
According to police officials, Wolfe allegedly pointed the gun alternately at himself and a police officer.
After about 15 minutes of negotiations, Wolfe was convinced to drop the weapon.
According to police, Wolfe was involved in an ongoing dispute with a neighbor and was being evicted from the rooming house as a result.
Nobody was injured in the incident.
The investigating was conducted by Sgt. John Peck, Det. Paul Caffo, Det. Todd Crossett, Det. Kevin Czora, officers Thad Mart, Kevin DeFelice, Matt Lutey and Jamie Givens.
Also responding to the scene were deputies and troopers.