December 24, 2013 - 8:25am
Man rescued from cold Iroquois swamp helps get free Muck Boots for Alabama firefighters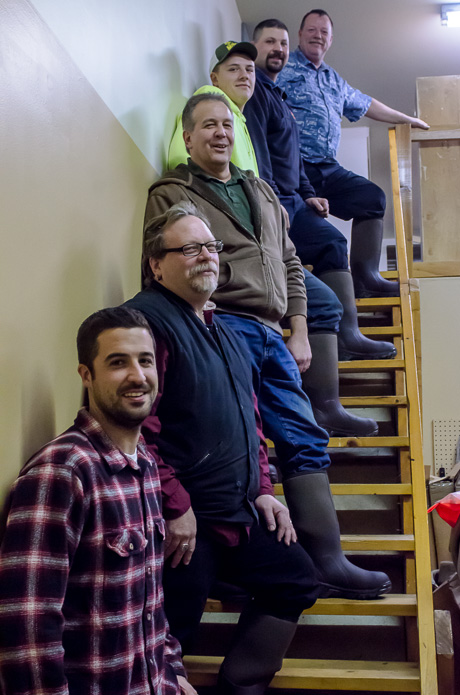 When Colin Phillips returned to his Vermont home, he thought about how well his Muck Boots performed while he was stranded in the middle of a frozen swamp on the Iroquois National Wildlife Refuge.
He thought about one of the firefighters who helped rescue him. That firefighter didn't have Muck Boots. His boots leaked. They filled with water. He was in danger of frostbite. That firefighter was airlifted out of the swamp before Phillips. The rescuer was rescued first.
So Phillips sent a letter to the Muck Boot Company and suggested maybe they could send a pair of Muck Boots, perhaps for free, to this firefighter.
Last night, that firefighter, Ryan Thompson, along with every other member of the Alabama Volunteer Fire Department, received a free pair of Muck Boots, courtesy the Muck Boot Company.
Phillips drove in from Vermont to help hand out the boots.
"I wanted to show my appreciation," Phillips said. "A lot of people, get rescued and you never hear from them again. I wanted these guys to know I appreciate the small town kind of life and how people are out here."
Alabama Chief Gary Patnode said the media recognition and the gift are a great morale boost for members of his department. It's nice, he said, to have their volunteer efforts recognized.
"Typically, since we're a non-transporting agency, we load somebody in the back of an ambulance and that's the last time we see them," Patnode said. "Unless (the patient) is related to one of the members, we don't get any kind of follow-up.
"This is a good thanks for what we do," Patnode said.
Previously: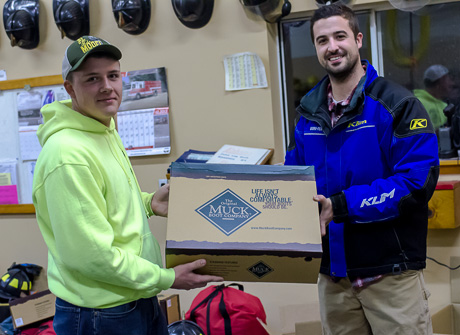 Thompson and Phillips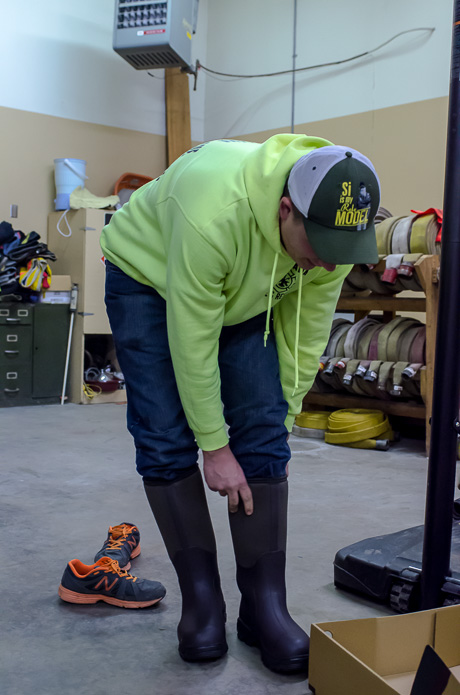 As soon as Thompson got his new boots, he put them on. "I'm sleeping in them," he said.
December 24, 2013 - 9:09am
#1
BEST FIRE DEPARTMENT in the WORLD - - of course, I might be a little prejudiced - - - I live in Alabama. Merry Christmas to MY Alabama VOLUNTEER Fire Department.
December 24, 2013 - 9:32am
#2
All the way around..This Is a Great
December 24, 2013 - 11:15am
#3
Another checkmark in the good column to remind us that not everyone, individual or corporate is selfish and ungreatful. Seem to me we are seeing more of this as of late.
God Bless Mr. Phillips and the Muck Boot Company... as well as the Alabama Volunteers...