November 7, 2012 - 3:05pm
Man serving time for molesting toddler admits to second sex abuse act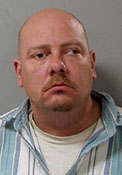 A man already serving a 15-year prison term for molesting a toddler admitted in county court today that he also molested another child under age 11 in March.
James L. Little Jr., 41, formerly of Batavia, could get three-and-a-half years tacked onto his current sentence after accepting a plea deal from the District Attorney's Office.
Little was escorted to court by state prison guards and appeared in court shackled and in a kelly green jumpsuit.
He entered a guilty plea to sexual abuse in the first degree.
Sentencing is scheduled for Jan. 29.
Batavia PD first arrested Little earlier this year for molesting a 2-year-old. Only after he was sentenced on that first charge did the second molestation, which occurred prior to Little's first arrest, come to light. 
Fifty-three-year-old Beverly Hensel was accused in court documents of supplying Little which child porn starting in 2008. She's entered a guilty plea to possession of child sexual performance and is scheduled for sentencing Jan. 9.
November 7, 2012 - 6:12pm
#1
it's too bad they couldn't tack on another 15 years, make sure he NEVER gets out.....